North Pole
onboard 50 Years of Victory
July 18–30, 2019
Join your fellow passengers and soak in the view from 90 degrees North, where your ship will ceremoniously drop anchor on a sturdy stretch of ice. © Poseidon Expeditions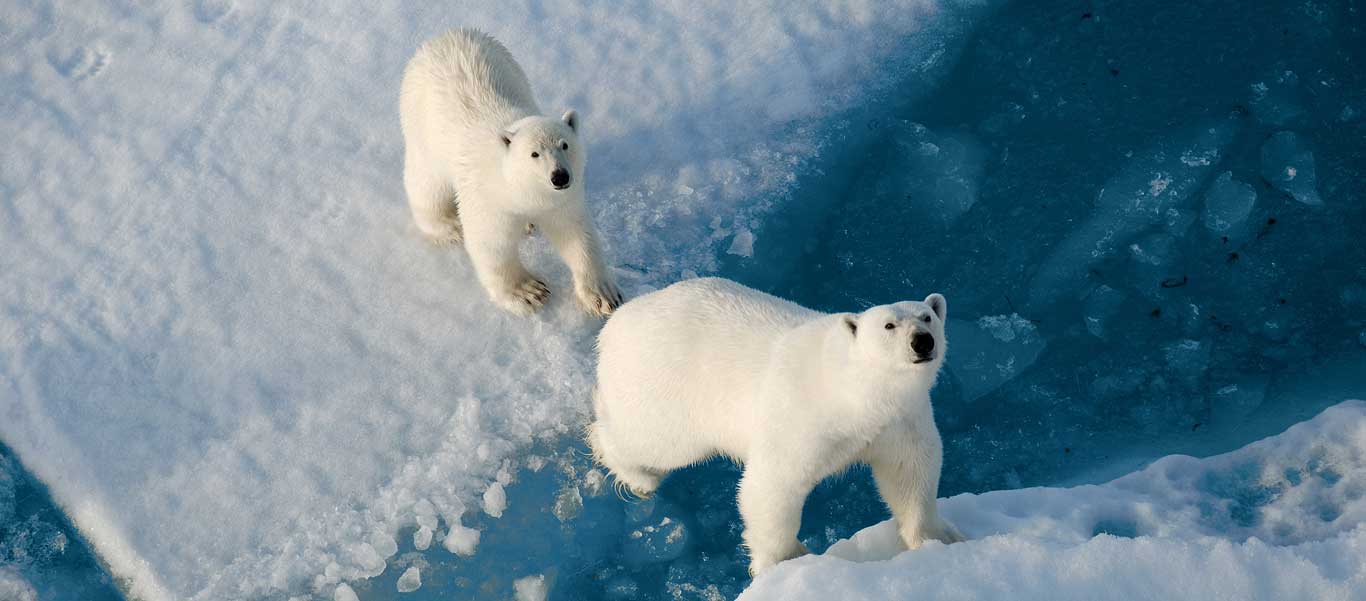 The most important habitats for polar bears are the edges of pack ice where they can find the greatest number of seals.
50 Years of Victory, the world's most powerful icebreaker, will be your home away from home during this Arctic adventure. © Dietmar Denger
Pacific Walruses are very social animals and tend to congregate in large numbers. Their total population has rebounded to more than 200,000. © Poseidon Expeditions
Helicopter excursions and Zodiac trips take full advantage of the near 24-hour daylight to ensure you the best chances for viewing wildlife. © Lauren Farmer
Polar Bears are uniquely suited to life in icy habitats. Their fur is thicker than any other bear and even covers their feet for warmth and traction on ice. © Dietmar Denger
North Pole Cruise with Franz Josef Land
If there is one geographical coordinate that has the power to excite a traveler's wildest dreams, it has to be 90° North: the top of the world, the terrestrial North Pole. Join Apex Expeditions on a North Pole cruise aboard the world's most powerful nuclear icebreaker, 50 Years of Victory, as it slices through pack ice to reach the very apex of the earth. Ride the ship's helicopter to gaze out over the icescape. Stand at the North Pole and look south in all directions. Then, visit Franz Josef Land in the Russian Arctic National Park to see Walrus, Arctic Fox, seals, whales and the king of the ice, the mighty Polar Bear, where they are all still thriving. Most of the year, 50 Years of Victory pilots scientific and cargo ships to the farthest reaches of the Arctic with only a narrow window in summer when it escorts a few fortunate explorers on a North Pole expedition.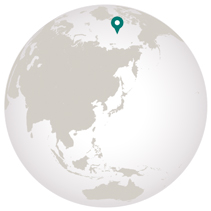 Destinations
Travel by Air
Travel by Road
Travel by Boat
Travel by Bullet Train
Travel by Rail
Travel by Dog Sled
Thursday, July 18: Arrive Murmansk, Russia

Touch down in Murmansk, the Arctic's largest city, and the jumping-off point for Russian Arctic adventures. Transfer to your hotel, and enjoy meeting your fellow travelers and expedition team over a welcome dinner and briefing. Dinner and overnight at the Azimut Hotel.

Friday, July 19: Embark 50 Years of Victory

After lunch at the hotel, set out on a city tour of Murmansk, including a stop at a scenic viewpoint overlooking the harbor and a visit to the nuclear icebreaker Lenin, now a floating museum and cultural center. The ship was the world's first nuclear-powered civilian ship and hosted passengers from all over the world. See intriguing Soviet era décor and furniture—twirling stairwells, minimalist clocks, and brass map displays. This afternoon, embark the hulking nuclear-powered icebreaker 50 Years of Victory, this 525-foot behemoth is your home away from home for the next 12 days. Be sure to have a good vantage point as the Victory slips its moorings and sails north through Kola Bay, out into the great Barents Sea.

Saturday, July 20 – Tuesday, July 23: Cross Barents Sea

In August of 2017, the Victory broke the world record for transit time to the North Pole from Murmansk. But it's not the ship's speed that is her most amazing attribute—the feeling you will have as her enormous spoon-shaped bow crushes through the Arctic pack ice is unlike any other. Take three days to cruise northward through the Barents Sea. Spend time on deck with your expedition leaders and watch for ice-dependent marine mammals. Whales present in the area include Minke, Beluga, Humpback, and, less frequently, Bowhead and Narwhal. Bearded, Ringed and Harp Seals abound. And, of course, the king of the ice, the majestic Polar Bear, reigns on surrounding floes.

Meanwhile, learn about the icebreaking capabilities of the ship, and tour its massive engine room. Get a unique vantage point over the Victory and the vast polar icescape through which it navigates on a helicopter sightseeing tour.

Wednesday, July 24: North Pole

Today, arrive at the most fantasized-about latitude on earth—90 degrees North. The ship will ceremoniously drop anchor on a sturdy stretch of ice and disembark onto the frozen sea. Join hands with your fellow passengers and literally walk around the world during a special International Round Dance. Enjoy a barbecue and champagne toast on the ice. Conditions permitting, you may even take a polar plunge into the icy water. Soak in the view at the top of the world, before re-embarking the ship and heading south toward the High Arctic archipelago of Franz Josef Land.

Thursday, July 25 – Saturday, July 27: Franz Josef Land

This group of 191 islands, known as the Franz Josef Land Archipelago, has been part of the Russian Arctic National Park since 2012, and is a special paradise for Arctic wildlife enthusiasts. Polar Bear, Walrus, reindeer and Arctic Fox can be seen in good numbers. Scree slopes and cliffs around the islands host enormous nesting colonies of seabirds, including Brünnich's and Black Guillemots, Northern Fulmars and Little Auks. Common Eiders, Purple Sandpiper, Arctic Skuas, Glaucous and Ivory Gulls, Arctic Terns and Snow Buntings nest on the flat tundra. Weather and sea ice conditions will greatly determine our course. The expedition team will take full advantage of the near 24-hour daylight for Zodiac trips and helicopter excursions to ensure you the best chances for wildlife viewing.

Franz Josef Land is also home to some fascinating geological features, such as the mysterious stone spheres on Champ Island. What's more, nestled among this jaw-dropping realm of glaciers, moss-covered peaks and fields of Arctic poppies and saxifrages are several well-preserved historical sites, vestiges of Franz Josef Land's many famed explorers. The adventures of Julius von Payer, Benjamin Leigh Smith, Frederick George Jackson, and Fridtjof Nansen come alive on Bell Island, Cape Floral and Tikhaya Bay, and crosses, gravestones and the remains of dwellings stand as memorials to their fascinating travels.

Sunday & Monday, July 28 & 29: The Voyage South

Today, head back south through the bountiful waters of the Barents Sea. Attend lectures to learn more about the flora, fauna and history of the region. Join the expedition team on the panoramic open decks to look for seabirds and whales. Share photographs and memories with your fellow travelers as you near Murmansk.

Tuesday, July 30: Disembark Murmansk / Homeward

After breakfast, disembark 50 Years of Victory in Murmansk. Bid farewell to the Russian Arctic as you transfer to the airport for your international flights homeward.
Details
Leaders

Kevin Clement & Ingrid Nixon
Rates starting from $29,475 per person Rate details

North Pole, 2019

onboard 50 Years of Victory

| Suite Categories | | Per Person Rates |
| --- | --- | --- |
| Standard Twin | | $29,475 |
| Mini Suite | | $32,135 |
| Junior Suite | | $38,975 |
| Grand Suite | | $39,925 |
| Victory Suite | | $42,870 |
| Arktika Suite | | $43,820 |
| Solo – Standard Suite | | $49,422 |
| Solo - Mini Suite | | $63,290 |

13 days

Trip Length

124 guests
Murmansk

Start/End
The Apex price includes, as noted in the itinerary, a welcome reception and dinner in Murmansk, with local beer and wine included; lunch and sightseeing in Murmansk before embarking the ship; beverages onboard the vessel (except certain premium brands of alcohol) and all gratuities.In addition, the voyage rate includes accommodations, meals, activities and excursions as noted in the itinerary, services of two Apex Expeditions leaders, as well as the full onboard lecture team and expedition staff, transfers on the group arrival and departure dates and Emergency Evacuation insurance to a maximum benefit of $100,000 per person.
The Fine Print

Call us to reserve your spot on this exciting expedition!
Have a question? Call us at 206.669.9272 /
800.861.6425

. Prefer online? Get in Touch
Join Kevin on deck to scan the ice for Bearded Seals, Pacific Walrus, and the mighty Polar Bear.
Ingrid is most excited to stand at the top of the world, celebrating all great explorers who have come before.

The Top of the World
The northernmost point on Earth, the geographic North Pole sits in the middle of the Arctic Ocean. There is no land at 90 degrees north, but an ice sheet that is approximately 6-10 feet thick floating over water that is more than 13,000 feet deep. As the drifting ice is an unpredictable habitat, Polar Bears and other terrestrial animals rarely migrate to the North Pole. Migratory birds, however, are frequent visitors—fulmars, kittiwakes and snow buntings can be spotted. The North Pole experiences only one sunrise, at the March equinox, and one sunset, at the September equinox each year. In summer, the sun is always above the horizon resulting in 24 hours of sunlight, while in the winter, the region experiences 24 hours of darkness.