China: Sichuan & Tibetan Plateau
October 13–26, 2020
Red Pandas can be identified by their unique ruddy coat color, which acts like camouflage where branches are covered with clumps of reddish-brown moss and white lichens. © Jonathan Rossouw
The Tibetan Macaque's long, thick fur is especially dense around its ears and the top of its head for protection against the cold. © Tang Jun
Native to forests in China's mountainous areas, the Golden Pheasant is one of the most brilliantly colored birds, with a golden-yellow crest, bright red body, and long tail. © Jonathan Rossouw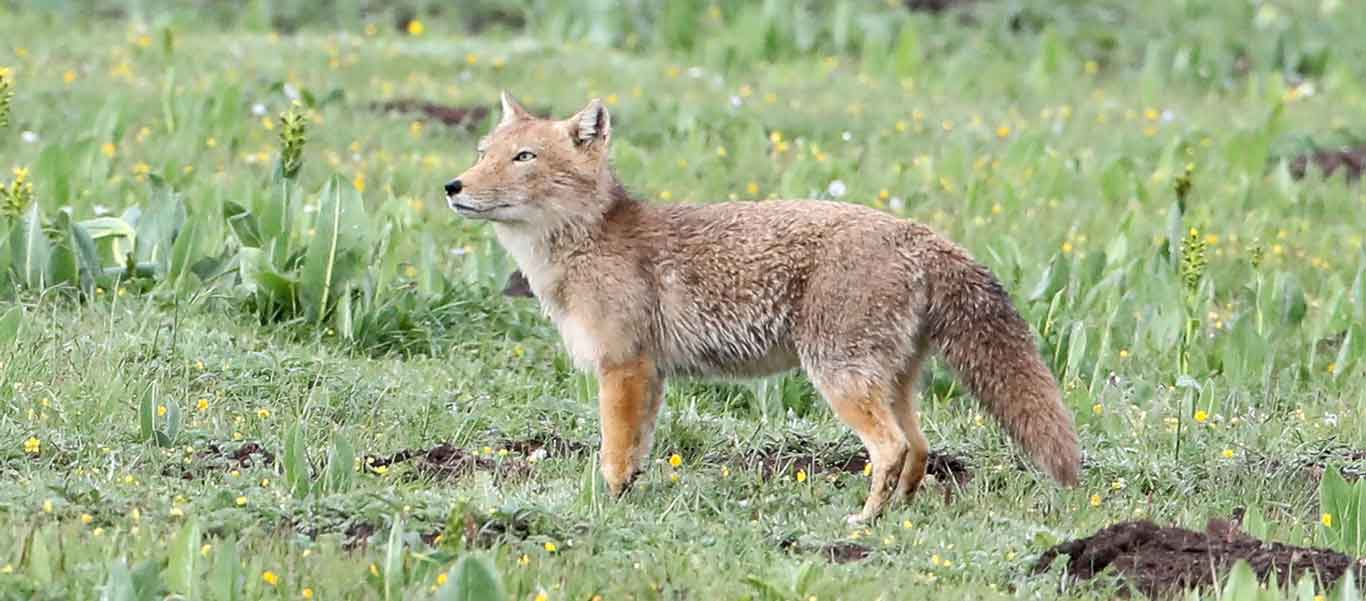 The Tibetan Fox lives in the high-altitude grasslands of the Tibetan Plateau. Mated pairs remain together for life, hunting and raising their young together. © Tang Jun
The Greater Hog Badger is a nocturnal creature with powerful jaws, and large, heavy claws, which are used to dig for food and construct underground dens. © Tang Jun
The Chinese Serow is forest-dwelling and solitary. Well adapted to climbing, they sometimes use large tree trunks overhanging cliffs as safe resting spots. © Tang Jun
China Nature & Wildlife Tour
For wildlife enthusiasts, China's irresistible attractions lie in its natural realm, and no other region offers the alluring mix of diversity and concentration of Chinese wildlife than Sichuan province. Lying at the very heart of this vast country, Sichuan straddles the snow-capped Hengduan Mountains that connect the low-lying Red Basin to the lofty Tibetan plateau. From subtropical foothills through bamboo-choked temperate forests to alpine grasslands and dramatic snow-capped peaks, this is the legendary home of Giant Panda and fabulous pheasants, Golden Takin and Pallas's Cat. If the mystique of China's wildlife quickens your pulse, join Apex on a China nature tour to some of the grandest landscapes on Earth!


Destinations
Travel by Air
Travel by Road
Travel by Boat
Travel by Bullet Train
Travel by Rail
Travel by Dog Sled
Tuesday, October 13: Arrive Chengdu

Arrive into Chengdu, Sichuan province's modern capital, lying at the western edge of the fertile Red Basin plains. Transfer to the Kempinski Chengdu Hotel for a welcome dinner and briefing by your expedition leaders. Overnight at Kempinski Chengdu Hotel.

Wednesday, October 14: Chengdu / Labahe National Park

No mammal better epitomizes China's fabulous wildlife than the Giant Panda. This morning, visit the famous Chengdu Panda Base, to learn more about this iconic species' ecology, and the ongoing scientific and conservation-focused research aimed at protecting it. This most beloved of bears is critically endangered, its global population estimated at fewer than 2,000 individuals, with almost a third inhabiting Sichuan's network of Panda reserves.

Continue westwards from Chengdu across the densely populated countryside of the Red Basin. Travel through a mosaic of intensively cultivated fields and traditional villages that lie in stark contrast to the newly constructed expressways and bustling towns, complete with skyscrapers, that bear testimony to the economic boom of modern China.

Leaving the plains behind, wind ever upwards into scenic Labahe National Park, situated in the rugged mountain wilderness of the Hengduan range that forms the eastern ramparts of the Tibetan Plateau. Roadside bamboo groves hold perky Collared Finchbills, melodious Chinese Hwamei, Elliot's Laughingthrush and active flocks of Vinous-throated Parrotbills. You may also encounter your first mammals in the form of bands of swarthy Tibetan Macaques foraging for berries. Overlooking a rushing river, deep within Labahe, the Blue Crystal Hotel provides your base for two full days of exploration.

Thursday & Friday, October 15 & 16: Labahe National Park

A region of high ridges and steep valleys cloaked in semi-deciduous and coniferous forests, Labahe National Park has gained notoriety recently as the very best place on Earth to see the exquisite, elusive Red Panda. Like their larger namesakes, Red Pandas favor areas of dense bamboo thickets in which to rest and feed, supplementing their bamboo diet with birds' eggs and fruits. In Labahe in the fall, by carefully scanning the mountain slopes, you may be fortunate enough to locate these fabulous chestnut "fire-foxes" feeding on seasonal berries in the treetops.

Although finding and spending time observing Red Pandas is undoubtedly our principal aim, Labahe also supports a broad array of other wildlife in its cool, mountain forest valleys. The goat-like Long-tailed Goral favors the rocky slopes, handsome Red and hulking Sambar Deer graze the hillsides, while diminutive Swinhoe's Striped, Père David's Rock and frenetic Perny's Long-nosed Squirrels scurry through the woodland. After dark, spotlighting excursions may reveal the presence of some of the harder to spot nocturnal denizens, such as the striking Masked Palm Civet, Hog Badger, Reeve's Muntjac (or Barking Deer) and the impressive Red-and-White Giant Flying Squirrel.

Hiking the network of trails and roads through the reserve also offers a chance to experience some of Sichuan's avian wonders, amongst them some of the most gorgeous birds on Earth. Foremost amongst these are the fabulous pheasants, with a first chance of such gems as the ethereal Satyr Tragopan and endemic Lady Amherst's Pheasant, although four species of bamboo-loving parrotbills, a plethora of woodpeckers and laughingthrushes, the jewel-like Golden-breasted Fulvetta, and perhaps even the highly localized Streaked Barwing, will likely also keep you entertained.

Saturday, October 17: Labahe / Wenchuan County

After a final morning exploring Labahe, depart northwards through the fantastic landscapes of Sichuan's high mountains, or shans. Traversing steeply incised gorges and cloud-wreathed hillsides of dense coniferous and mixed deciduous forests, cross high mountain passes with seemingly endless panoramic vistas of snow-capped peaks.

At the roadside, active White-throated Dippers and White-capped Redstart flit along the streams, while Himalayan Griffons and Alpine Choughs often soar around the scenic lookout points. In the late afternoon, reach Wenchuan County for an overnight stay at the New Wenchuan Hotel.

Sunday, October 18: Wenchuan County / Ruoergai

Rise early to continue the journey westwards from Wenchuan County, crossing a final series of spruce-clad passes before reaching the high Tibetan Plateau. An austere, but starkly picturesque, wilderness of alpine grasslands, meandering rivers and shimmering lakes, the Tibetan Plateau is still inhabited by traditional nomadic herders who move their yaks, sheep and ponies with the seasons, their lifestyle unchanged in centuries.

Arrive into the orderly town of Ruoergai, to prepare for an in-depth exploration of the unique Tibetan wildlife and culture of the surrounding areas. Dinner and overnight at the Tanggute hotel.

Monday & Tuesday, October 19 & 20: Ruoergai

Ruoergai has achieved a reputation in recent years as an excellent base from which to search for Tibetan wildlife, a product of its location at the edge of the 12,000-foot-high Tibetan Plateau, in close proximity to a rich variety of productive wildlife-watching sites.

Kick off your endeavors with a sunrise vigil at the Baixi Forest, overlooking a valley of ancient spruce. This is the time when mammals are most active, and as the mist lifts over the primordial scene, Eurasian Roe, Sika, or even Tufted Deer may be glimpsed picking their way stealthily through the hillside scrub. Common Pheasants, here in their ancestral home, and regal Blue Eared Pheasants stalk the surrounding meadows, with the rollicking songs of skulking Père David's and Giant Laughingthrushes heralding the dawn.

Hiking through the taller old-growth forest offers such avian specialties as Eurasian Three-toed Woodpecker, the dainty, lilac-tinted Crested Tit-Warbler, Collared Grosbeak, or perhaps even two scarce and localized denizens for which Baixi is renowned: the endemic Chinese Grouse and highly localized Snowy-cheeked (or Sukatschev's) Laughingthrush.

Despite the many attractions of the coniferous forest, it is undoubtedly the grasslands of the plateau itself that hold the greatest rewards for the mammal enthusiast. Although never plentiful, the fauna of these high uplands has long held the allure of the exotic. Most conspicuous are the scurrying Plateau, or Black-lipped, Pikas, which form the base of the food chain in these parts. Endlessly fascinating, the colonies of these diminutive, hare-like animals attract a plethora of desirable carnivores, from maned Tibetan Foxes and frenetic Mountain Weasels, to rare Asian Badgers and Steppe Polecats, with Upland Buzzards and Saker Falcons circling above. At this season, packs of handsome Tibetan Wolves are also a distinct possibility, patrolling the terrain for easy meals.

Of all the pika predators, however, one holds the most intoxicating appeal: Pallas's Cat, or Manul! Barely the size of a house cat, these peculiar, low-slung, stealth hunters are amongst the most sought-after of all the world's felids, and the Rouergai area is currently the very best place to encounter this wonderful creature, seen by fewer Westerners than have Snow Leopards!

A visit to the scenic Wild Flower Lake area to the north of town is equally compelling and productive. White-rumped and smart Red-necked Snowfinches forage amongst the pika colonies, Kessler's Thrushes and amazing, aberrant Ground Tits bound across the grassland. You may also find the most iconic of Tibetan Plateau nesting birds, the stately, rare, and endangered Black-necked Crane. Overnights at Tanggute Hotel in Ruoergai.

Wednesday, October 21: Ruoergai / Jiuzhaigou

It will be hard to tear yourself away from this lonely, compelling plateau, yet Sichuan's low altitude forests beckon, and you descend southwards through dry, scrub-covered valleys toward Jiuzhaigou. This is nearly the halfway point on the journey to Tangjiahe National Nature Reserve. Dinner and overnight at the Hilton Jiuzgaigou Resort.

Thursday, October 22: Jiuzhaigou / Tangjiahe National Nature Reserve

Continue the drive to the legendary Tangjiahe National Nature Reserve. This is truly scenic countryside, a wilderness of temperate forests and jagged, snow-covered peaks where the pioneering research on Giant Pandas was carried out decades ago by the world-renowned biologist, George Schaller. Toward evening, enter the steep, limestone gorges of Tangjiahe, to spend three nights in the extraordinary Tangjiahe Hotel, deep in the heart of the national park.

Friday & Saturday, October 23 & 24: Tangjiahe National Nature Reserve

Tangjiahe National Nature Reserve is a magnificent region of subtropical forests dominated by extensive thickets of bamboo, known for its plentiful wildlife. Set out on foot this morning, watching for signs of Wild Boar roaming the valley floor, perhaps alongside bands of Tibetan Macaques, with Tufted Deer picking their way through the undergrowth higher up the slopes. With a healthy dose of luck, and careful scanning, bands of that most quintessential of Chinese primates, the Golden Snub-nosed Monkey, may also be found, crashing through the treetops. Perhaps Tangjiahe's most famous denizen, however, is the amazing Golden Takin, a bizarre goat-antelope frequently found grazing in open forest clearings during the day, or on the lawn of our hotel at night!

Nocturnal excursions form a large part of the focus here, offering a unique opportunity to come face to face with some of Asia's most rarely seen mammals: Chinese Serow, striking Masked Palm Civet, the cantankerous Malayan Porcupine, exquisite Leopard Cat, or even Chinese Ferret-Badger. While encountering these rarities is far from guaranteed, careful and persistent spot-lighting over successive evenings often yields rewards!

At this season, the semi-deciduous forests are painted in breathtaking fall colors, a perfect landscape in which to search for additional avian riches of Sichuan. Foremost is Golden Pheasant, a mind-numbingly beautiful bird that is nowhere more readily encountered than here. Garrulous Three-toed and Spectacled Parrotbills flit through the bamboo undergrowth, along with the bulky Spotted Laughingthrush, the sneaky Black-streaked Scimitar Babbler, and gorgeous Golden-breasted Fulvetta, while riverside trees play host to Crested Kingfisher and, with great luck, the impressive Tawny Fish-Owl. Overnights in Tangjiahe Hotel.

Sunday, October 25: Tangjiahe / Chengdu

After a final morning in Sichuan's magical valleys, follow a series of impressive modern roads southwards to Chengdu for dinner and an overnight at the Kempinski Hotel Chengdu, conveniently located for your international departures tomorrow.

Monday, October 26: Depart Chengdu

Transfer to the airport this morning for your international flights home.
Details
Leaders

Kevin Clement & Gerald Broddelez
$12,970

Per Person Rate

$13,760

Solo Rate

14 days

Trip Length

13 guests
Chengdu

Start/End
In addition to all tour services from arrival in Chengdu through departure from Chengdu, as described in the itinerary, the trip price includes all gratuities; services of two Apex expedition leaders, plus local guides throughout; plus local beer and wine with lunch and dinner daily.
The Fine Print

Call us to reserve your spot on this exciting expedition!
Have a question? Call us at 206.669.9272 /
800.861.6425

. Prefer online?Get in Touch
Kevin is excited to explore the rich landscapes of Sichuan province and the diversity of wildlife that calls it home.
The Red Panda and Pallas's Cat are at the top of Gerald's list to seek on this China wildlife quest.

The Skillful and Acrobatic Red Panda
Red Pandas or "fire foxes" are slightly larger than a domestic cat with a bear-like body and thick red fur. They spend most of their lives in trees, and while classified as a carnivore, eat mainly bamboo leaves. Like the black-and-white giant that shares its name, Red Pandas have an extra "thumb," which is an enlarged bone used for grabbing bamboo stems and tree branches. They have sharp claws like a cat and fur covering the soles of their feet, which is believed to add extra insulation from the cold and help grip onto slippery, mossy branches. In fact, Red Pandas are one of the few animals on the planet that can climb straight down a tree, head-first.