Orangutans are the only primarily arboreal great ape and are actually the largest tree-living mammal in the world.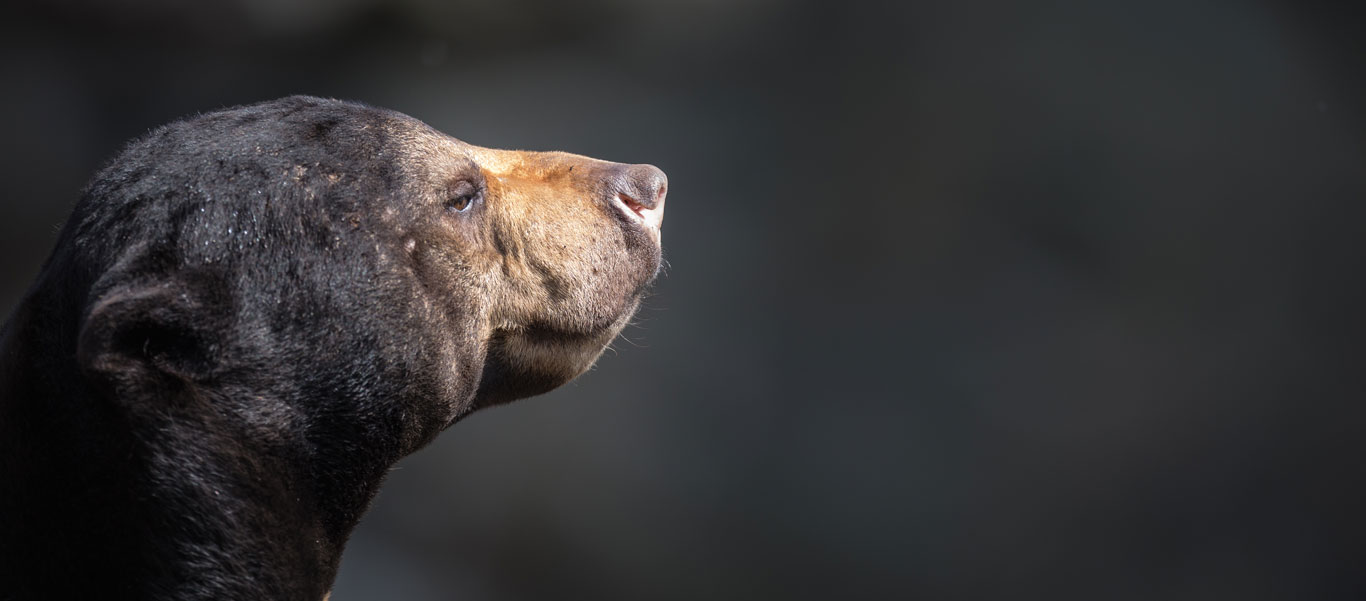 The smallest member of the bear family, the Malayan Sun Bear leads an exclusively tree-dwelling life in the dense lowland forests of Southeast Asia.
Western Tarsiers have long, skinny fingers to help them climb, and large forward-facing eyes to accurately assess distances for safe leaping.
Distinguished by its golden chest and throat, the yellow-throated Marten is the only one of its species to live in tropical and sub-tropical forests.
Dominated by Mt. Kinabalu at 13,000 feet, Kinabalu National Park is a World Heritage Site, considered one of the most important ecological areas in the world.
Borneo Wildlife Tour
Borneo does not often make the headlines for positive conservation news, but there is, in fact, a robust conservation effort underway on this magnificent island. Within its parks and reserves, there still resides the most spectacular array of plants and animals that you can find on Earth. Join Apex on this 14-day Borneo wildlife tour and visit some of Northern Borneo's untouched wild places. See Proboscis Monkey, Bornean Gibbon, Pygmy Elephant and Clouded Leopard in riverside mangroves. Watch for Slow Loris and Red Giant Flying Squirrel on night walks through ancient lowland rainforest. Trek among 800 species of orchid and search for the world's largest flower, the incredible stinking Rafflesia, on the lowland slopes of Borneo's highest mountain. And, of course, throughout the adventure, keep watch for Borneo's "man of the forest," the wise and winning Bornean Orangutan, still surviving, where protected.


Destinations
Travel by Air
Travel by Road
Travel by Boat
Travel by Bullet Train
Travel by Rail
Travel by Dog Sled
Monday, February 24: Arrive Kota Kinabalu, Borneo

Arrive in Kota Kinabalu (or KK, as it's known locally), on the northwestern coast of Borneo. Take the day at leisure to acclimate. If you're up for it, go for a walk in the bustling city and explore its vibrant and diverse markets, boardwalks and beaches. Meet your expedition leader and fellow travelers at a welcome dinner. Overnight at Shangri-La Tanjung Aru.

Tuesday, February 25: Kota Kinabalu / Lahad Datu / Danum Valley

After breakfast, transfer to the airport for a flight to Lahad Datu in the Eastern Sabah state. Travel overland by vehicle to Danum Valley Conservation Area, the largest contiguous virgin rainforest remaining in Southeast Asia. Danum protects nearly 200 square miles of lowland forest, and is recognized as one of the world's most complex ecosystems. It is home to a staggering array of wildlife, including Bornean Orangutan, tarsier, Sambar Deer, King Cobra, Proboscis Monkey, Red-leaf Monkey, gibbon, Pygmy Elephant and Clouded Leopard, to name but a few. Upon arrival, settle into your bungalow at the Borneo Rainforest Lodge. Enjoy lunch, then head out for an afternoon trek on the lodge's nature trails and elevated canopy walkways. As the sun sets, listen for Bearded Pig rooting under the bungalows. Dinner and overnight at Borneo Rainforest Lodge.

Wednesday & Thursday, February 26 & 27: Danum Valley

Rise each morning to the din of gibbons and the raucous laughter of Helmeted Hornbills. Take two full days to explore further on foot and by vehicle, searching for animals, including the elusive orangutan. Danum Valley has been designated an Important Bird Area, and is home to nearly 350 species, including the Bulwer's Pheasant, seven species of pitta, flycatchers, the bizarre Borneo Bristlehead, Buffy Fish Owl, and eight species of hornbill. Visit Coffin Cliff, an ancient Kadazan Dusun burial site where the coffins of chiefs and warriors are still tucked into caves. Enjoy night drives looking for the five Bornean cat species, namely theLeopard Cat, Flat-headed and Marbled Cats, Clouded Leopard and the cartoon-like Bay Cat, the last two of which are endemic. Also see Common Palm Civets and the rare Western Tarsier. Dinners and overnights at Borneo Rainforest Lodge.

Friday, February 28: Danum Valley / Kinabatangan

Enjoy a morning jungle walk before driving north toward the dense mangrove forests of Lower Kinabatangan Segama Wetlands, Malaysia's largest Ramsar site and home to one of the highest wildlife concentrations in Southeast Asia. Here, wild orangutans, Proboscis and Leaf Monkeys, gibbon, macaque, Pygmy Elephant, Monitor Lizard, and a great array of birdlife dwell within the dense foliage. At the village of Sukau, board a boat for the final stretch to the lodge via the Kinabatangan River. After lunch, enjoy an afternoon river cruise, looking for otter, crocodile, kingfisher and hornbill. Dinner and overnight at Kinabatangan Wetlands Resort.

Saturday, February 29: Kinabatangan

Spend time today on the river, starting with an early morning cruise. Watch Proboscis Monkeys waking from their slumbers in the mangroves, performing death-defying acrobatics over the water in attempts to evade the ever-watchful Saltwater Crocodiles frequenting the backwaters. Explore the river's tributaries, looking for Hose's and Silvered Langurs, Crab-eating Macaque, Reticulated Python, Storm's Stork, and orangutan eating fruiting figs along the banks. This evening, take a spotlighting boat ride, and keep an eye out for Flat-headed Cat coming down to drink, Slow Loris moving through the canopy, and Buffy Fish-owl on the hunt. Dinner and overnight at Kinabatangan Wetlands Resort.

Sunday, March 1: Kinabatangan / Deramakot Forest Reserve

After breakfast, take a boat back to Sukau, then travel west by vehicle to Deramakot. Despite its status as a "reduced impact logging" concession (10% is entirely protected for conservation), Deramakot remains one of Sabah's best wildlife-viewing destinations, with 75% of Sabah's mammal species found within its 210 square miles of mixed lowland forest. Settle into your basic park-style chalet at base camp and enjoy dinner, followed by an evening spotlighting drive to look for Common Palm Civet, Leopard Cat and Sambar Deer. Dinner and overnight at Deramakot Chalets.

Monday–Wednesday, March 2–4: Deramakot

Savor the surprisingly well-preserved forest surroundings—Deramakot has the rare distinction of being the longest certified "well-managed" rainforest concession in the world, since 1997.For three full days, enjoy morning and evening game drives to look for orangutan, sun bear, Wild Boar, Binturong, Pygmy Elephant, Banteng (wild cattle), Proboscis Monkey and Clouded Leopard, as well as many birds, including flycatcher, kingfisher, broadbill, pitta and the reserve's "featured" species, Helmeted and Wreathed Hornbills. Learn about the reserve's Reduced Impact Logging (RIL) and the measures it takes to preserve habitat for wildlife. See RIL in action along several jungle hiking trails. Dinners and overnights at Deramakot Chalets.

Thursday, March 5: Deramakot / Sepilok Rehabilitation Center

Leave Deramakot this morning, heading northeast to Sepilok. After lunch, visit the world-renowned Sepilok Orangutan Rehabilitation Center, started in 1964 to help baby orangutan orphaned by logging, hunting, and the illegal pet trade. Get close-up views of some of the center's 300 babies as they come in for their afternoon feeding. Then, visit the nearby Bornean Sun Bear Conservation Center, founded in 2008 to rehabilitate orphaned Malayan Sun Bear, the world's smallest bear species. After dinner, take a night walk to look for Red Giant Flying Squirrel and macaque running along the boardwalks. Dinner and overnight at Sepilok Nature Resort.

Friday, March 6: Sepilok / Kota Kinabalu / Rasa Ria Reserve

After breakfast, head to the airport for a flight back to Kota Kinabalu. Take the rest of today to explore the 400-acre nature reserve on the hotel's property. Dinner and overnight at Shangri La Rasa Ria Resort.

Saturday, March 7: Rasa Ria Reserve – Mt. Kinabalu

Enjoy breakfast seaside, then take a short drive to Mt. Kinabalu, which at 13,000 feet is the highest point between the Himalayas and New Guinea. Explore the montane rainforest surrounding the park headquarters, home to more than 800 orchid species and five kinds of carnivorous pitcher plants. Look for Jentinck's and Prevosts' Squirrels, and some 300 species of birds, including minivet, babbler, laughing-thrush, and the endemic Whitehead's Broadbill and Short-tailed Magpie. This afternoon, visit the lowland rainforest on the other side of the mountain to hike among the largest mosses on Earth and more than 600 species of fern—exceeding the number found on the entire African mainland. See colorful butterflies and hornbills. With luck, you may also spot the incredible Rafflesia flower. Return to the hotel for a farewell dinner with fellow travelers. Dinner and overnight at Shangri La Rasa Ria Resort.

Sunday, March 8: Kota Kinabalu / Depart Borneo

After breakfast, head to the Kota Kinabalu airport for your international flights home.
Have a question? Call us at 206.669.9272 /
800.861.6425

. Prefer online?Get in Touch

Meet Borneo's Person of the Forest
Found only on the islands of Borneo and Sumatra, Orangutans are one of the most critically endangered of the great apes. Orangutan females only give birth about once every 8 years, the longest time between births of any mammal on Earth. She may have just two or three babies in her lifetime which means orangutans as a species struggle to repopulate as their numbers decline. Born with the ability to reason and think, this large, gentle ape is one of our closest relatives, sharing nearly 97% of the same DNA as humans. In fact, the indigenous peoples of Malaysia call this ape "orang hutan" which literally translates in English to "person of the forest."