Greenland & Baffin Island
onboard Silver Cloud
July 22 – August 9, 2023
Walruses use their powerful tusks to haul themselves onto ice floes where they gather in herds to sunbathe and sleep. © Kevin Clement
Polar Bears are the largest land carnivores in the world, feeding primarily on the fat of ice-dependent Ringed Seals and Bearded Seals. © Jonathan Rossouw
Recognizable by its stark white coloring, a Beluga Whale is born dark gray and can take up to eight years before turning completely white.
Ilulissat Icefjord is a magnificent waterway whose towering glacier calves up to 20 million tons of ice per day.
With wide, front-facing ears, the Arctic Fox has incredible hearing, allowing it to locate the precise position of its prey under the snow pack. © Peter Harrison
During the breeding season, the male puffin's large beak turns bright yellow and orange, earning these birds their nickname, "sea parrots." © Peter Harrison
With just 240 guests, the Silver Cloud is the most spacious and comfortable ice class vessel in expedition cruising.
Baffin Island & Greenland Tour
Journey to some of the most pristine and jaw-dropping destinations in the Arctic on this Baffin Island and Greenland tour. Explore the crystalline icebergs, staggering wildlife, and colorful cliffside villages of western Greenland. On Baffin Island, visit communities that have thrived for millennia in this icy realm. See the 1,000-foot limestone cliffs that are home to hundreds of thousands of nesting seabirds. Cruise in Zodiacs through the majestic fjords of Northeast Baffin, with a great chance to spot Narwhal, Beluga and Bowhead Whales, Harp Seals, and perhaps the Arctic's most iconic animal, the Polar Bear.Due to the expeditionary nature of this itinerary, voyage highlights and wildlife listed are possible experiences but cannot be guaranteed. Our Expedition Team will work hard to ensure that opportunities for adventure and exploration are the best possible, taking into account the prevailing weather and wildlife activity.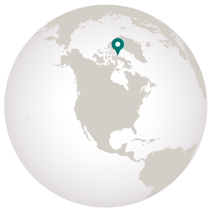 Destinations
Travel by Air
Travel by Road
Travel by Boat
Travel by Bullet Train
Travel by Rail
Travel by Dog Sled
Saturday, July 22: Arrive New York, USA

Arrive in New York City, the convenient starting point for this epic adventure. Overnight at our group hotel with a welcome dinner to meet your fellow travelers and Apex expedition leaders. Please note that the direct charter flight from New York to Kangerlussuaq is confirmed but the location and name of the hotel is still being finalized.

Sunday, July 23: New York / Kangerlussuaq, Greenland / Embark Silver Cloud

After breakfast at the hotel, head to New York's John F. Kennedy Airport for your charter flight to Kangerlussuaq, where the scenery is sure to astound before you even touch down: from the air, the Greenland Ice Cap stretches as far as the eye can see, covering about 80 percent of the country's land mass. A former U.S. military base, Kangerlussuaq is located just above the Arctic Circle. Surrounding the settlement is some of Greenland's most diverse fauna, including shaggy Muskoxen, Gyrfalcons and Caribou. Head to the harbor to board the Silver Cloud, your expedition vessel for the next 16 nights. Toast to the adventure to come as the ship heads down the 100-mile-long Kangerlussuaq Fjord under the midnight sun. Keep an eye out for Peregrine Falcons, as this fjord hosts 130 of their nesting sites.

Monday, July 24: Sermilinnguaq Fjord / Maniitsoq

Many deep fjords cut into Greenland's west coast, fed by glaciers from the enormous ice cap that crowns the world's largest island. Some 40 miles southeast of the entrance to Kangerlussuaq Fjord is Sermilinnguaq Fjord, 7,400 acres of which have been deemed an Important Bird Area: Razorbills, Brünnich's, Common and Black Guillemots, Glaucous Gulls, and Black-legged Kittiwakes all have robust colonies here. This morning, explore the narrow waterway by Zodiac, watching birds flit among the impressive sea cliffs. Then, head south to Maniitsoq, Greenland's sixth-largest town. Home to fewer than 2,700 inhabitants, the town is known for its magnificent carvings and beadwork, and houses a delightful museum. Enjoy a hike through the rugged terrain here, or kayak along the small natural canals that intersect the archipelago to see why the town has been dubbed the "Venice of Greenland" by locals (kayak space is limited).

Tuesday, July 25: Nuuk (Godthab)

Established in 1728, Nuuk is Greenland's first town and current capital, housing nearly 30% of the nation's population. It's practically cosmopolitan compared to Greenland's other towns, possessing the country's only traffic lights, roundabouts and university. Enjoy a walking tour of this charming town to see Inuit ruins, the home of Nuuk's missionary founder, Hans Egede, the parliament building, and the Church of our Saviour, whose towering spire provides a noticeable landmark.. At the Greenlandic National Museum, see the famous Qilakitsoq mummies and an outstanding collection of traditional dresses. You may choose instead to spend the day hiking in the hills above town.

Wednesday, July 26: At Sea

Enjoy the onboard lecture series about the fascinating history of polar exploration, as well as the natural history of the Canadian Arctic, as you make the roughly 500-mile trip across Baffin Bay. Spend time on deck watching for White-beaked Dolphins, Minke Whales, seals and Walrus. Birders may spot Pomarine Skuas, Little Auks, Brunnich's Guillemots, Northern Fulmars, and Glaucous Gulls.

Thursday, July 27: Iqaluit, Nunavut, Canada

Canada's newest capital, located at the head of Frobisher Bay in southeastern Baffin Island, was founded in 1942 as an American air base. Today, Iqaluit is Nunavut's largest and fastest growing community, and is the political and economic hub of the Canadian Arctic. Walk through town and see the many colorful Inuit murals and carvings displayed along the streets. Visit the Nunatta Sunakkutaangit Museum and Nunavut Legislative Assembly Building, both of which house incredible collections of Inuit artwork and artifacts, including tools, boats, jewelry and clothing. This afternoon, enjoy a walk in nearby Sylvia Grinnell Territorial Park. The picturesque park houses ancient Thule ruins and many varieties of wildlife— Caribou and Arctic Fox are common sightings, along with 40 avian species, including Lapland Longspurs, Northern Wheatears, Red-throated Loons, and Gyrfalcons. Look for the rare Woodsia Fern and Purple Mountain Saxifrage, the official flower of Nunavut.

Friday, July 28: Lower Savage Islands

Late this morning, arrive at the Lower Savage Islands, a group of three main rocky islets off the southern tip of Baffin Island. Polar Bears are known to spend the summer months here as they have plenty of land to roam and opportunities to feed as the ice vanishes with the summer's warming temperatures. Conditions permitting, explore the narrow channels between the islands by Zodiac to search for King Eiders, Red-throated and Great Northern Divers, and Black Guillemots, as well as Polar Bears and Harbor Seals, among the unusual rocky formations. You may also choose to kayak along the main channel and among some of the smaller islands to get a closer look at their jagged coastlines and coves.

Saturday, July 29: Monumental Island / Franklin Island

Early this morning, enter the Davis Strait and arrive at isolated Monumental Island. Cruise in Zodiacs around its exposed rocky cliffs, an excellent place to spot Black Guillemots, Gyrfalcons and Northern Gannets. Walrus have been known to haul out here. Look for them, and groups of curious Harp Seals, here and on the many skerries by the island. There is also a chance to spot a Polar Bear along the shoreline. This afternoon, head to nearby Lady Franklin Island, named for the wife of Sir John Franklin, the Arctic explorer who died trying to discover the Northwest Passage. Lady Franklin is home to striking vertical cliffs of Archean rock, likely some of the oldest stone in Canada. With a bit of luck, it is possible to see Atlantic Puffins and even a rare Sabine's Gull here.

Sunday, July 30: At Sea

Spend the day at sea as you head to the northeast coast of Baffin Bay. Attend lectures on the area's fjords and marine mammals. Join the naturalists on deck as they search for whales, dolphins and seabirds.

Monday, July 31: Isabella Bay (Ninginganiq National Wildlife Area)

Your first stop in Northeast Baffin will be the shoreline and islands of Isabella Bay, which was folded into Canada's Ninginganiq National Wildlife Area in 2010. The area provides key protection for an estimated 1,500 to 2,000 Bowhead Whales that inhabit the area during late summer and fall, feeding on the abundant zooplankton blooms that occur in two deep troughs in the bay. Bowheads have been recognized as threatened in Canada, and this is the first sanctuary in the world designed especially for them. Pending permission, set out to spot these powerful creatures. Bowheads are known for their massive bony skulls, which they use to break through ice up to 24 inches thick to breathe. The Ninginganiq NWA also supports healthy populations of Polar Bears, Ringed Seals, King Eiders, Long-tailed Duck, Dovekies, Northern Fulmars and Narwhal.

Tuesday, August 1: Sam Ford Fjord

The low light of sunrise is perfect for spotting the faint blow of the Narwhal in stunning Sam Ford Fjord. Adventure travelers and climbers alike have called this one of the most impressive sights in the world: a 68-mile waterway of vertical walls etched through the mountains by ancient glaciers. A Zodiac ride up the fjord will give you more chances to spot bears, seals and whales. At the end of the fjord, wade out to a sandy beach for a short hike over rocky terrain to the edge of a glacier.

Wednesday, August 2: Gibbs Fjord

Navigate into spectacular Scott Inlet. Upon entering, feast your eyes on the impenetrable fortress of 4,000-foot walls, towers and buttresses of Sillem Island, dividing Gibbs and Clark Fjords. As you circumnavigate the ice-capped island, keep watch for Bowhead Whales and Narwhals, as well as Polar Bears and seals on the ice floes, and Caribou roaming the mainland. Disembark with a chance to see Thule ruins, Arctic wildflowers and staggering views of the surrounding glaciers.

Thursday, August 3: At Sea

As you navigate back across Baffin Bay watch for birds and sea life, and learn more about the history of Greenland.

Friday, August 4: Upernavik, Greenland

Upernavik means "the place of spring", where people have long come to hunt and trade when the ice breaks up. The mainstays of the area's hunter-culture are Ringed, Harp, Hooded and Bearded Seals, and Walrus, all of which can be found this time of year in the surrounding waters. You'll be sure to see Polar Bear and seal skins as you walk in town, the northernmost in Greenland. It's also one of Greenland's oldest towns, founded officially in 1772, but inhabited for over 900 years by the Thule people. The small museum houses a stunning collection of artifacts and artwork from Northwest Greenland, as well as the northernmost Viking artifacts ever found. Take Zodiacs to get a closer look at the impressive bird cliffs of Apparsuit and Kippaku, looking for Eider Ducks, Black Guillemots, Puffins, Little Auks and occasionally Great Northern Divers.

Saturday, August 5: Qeqertarsuaq

Be on deck as the ship plies through Disko Bay, strewn with icebergs of every shape and size. Dock at Qeqertarsuaq, the only town on 3,300-square-mile Disko Island, standing verdantly amid the stark white of the icebergs packed all around it. Basalt rock formations stand at odd angles around the town, and the hulking Lyngmark Glacier towers above it. Visit the church, nicknamed the "Lord's Ink Pot" due to its characteristic octagonal shape, as well as the museum, located in the old bailiff's house, which showcases everyday life during the colonial period, when the colony, 'Godhavn', held a powerful position. Conditions permitting, enjoy a hike to the magnificent Blaesedal Waterfall near the village.

Sunday, August 6: Ilulissat

It's on to mainland Greenland, and Ilulissat, whose name means "icebergs" in the Kalaallisut language. A UNESCO World Heritage Site, the town sits beside the Ilulissat Icefjord, a magnificent waterway whose towering glacier calves up to 20 million tons of ice per day—one of the fastest and most productive glaciers in the world. In town, see a demonstration of ancient fishing methods. Visit the small museum located in the former home of Greenlandic folk hero and famed polar explorer, Knud Rasmussen. Embark a fishing boat to navigate amongst the brilliant and massive white and turquoise icebergs. You may choose to hike to a beautiful lookout point over the Icefjord.

Monday, August 7: At Sea

Recap the journey with your fellow travelers and expedition team as you head south toward Kangerlussuaq. Be on deck as the ship approaches the Kangerlussuaq Fjord, keeping an eye out for Peregrine Falcons, Gyrfalcon, and rare White-tailed Eagles.

Tuesday, August 8: Kangerlussuaq / New York

Disembark the Silver Cloud and transfer to the airport for your charter flight to New York's John F. Kennedy Airport. The charter flight is expected to land late this evening.  Overnight at our group hotel.

Wednesday, August 9: New York / Depart

After breakfast, return to the airport for your flights home.
Details
Leaders

Kevin Clement, Ingrid Nixon, Duke Brady, John Buchanan & Dan Olsen
Rates starting from $19,790 per person Rate details

Greenland & Baffin Island, 2023

onboard 

Silver Cloud

| Suite Categories | | Per Person Rates |
| --- | --- | --- |
| Vista Suite | | $19,790 |
| Veranda Suite | | $22,190 |
| Deluxe Veranda Suite | | $25,290 |
| Medallion Suite | | $31,990 |
| Silver Suite | | $37,490 |
| Royal Suite | | $43,590 |
| Grand Suite | | $50,790 |
| Owner's Suite | | $59,590 |
| Solo – Vista | | $24,515 |
| Solo – Classic Veranda | | $27,515 |
| Solo – Deluxe Veranda | | $31,390 |

19 days

Trip Length

240 guests onboard Silver Cloud
New York

Start/End
The Apex rate includes, as noted in the itinerary: a welcome reception and dinner in New York with local beer and wine included; all transfers and all gratuities.
In addition, the voyage rate includes, as described in the itinerary: roundtrip economy-class air from select cities to and from New York City; one pre- and one post-voyage overnight in New York; charter flights New York to Kangerlussuaq and Kangerlussuaq to New York; accommodations onboard the
Silver Cloud
; activities and excursions as described in the itinerary; services of Apex Expeditions leaders, as well as the full onboard Silversea lecture team and expedition staff; all crew gratuities; complimentary room service onboard the vessel; all meals and select wines and spirits onboard the vessel; all permits, entrance fees and taxes.
The Fine Print

Call us to reserve your spot on this exciting expedition!
Have a question? Call us at 206.669.9272 /
800.861.6425

. Prefer online?Get in Touch

Big Ice on the World's Largest Island
Geologically speaking, Greenland is an anachronism. Not long ago, as geologists measure time, vast ice sheets covered most of North America, extending down into Kansas and Tennessee. The last great relic of that mighty glacial complex is Greenland's ice cap. In that sense, the island is a window into the past, and its ice-free margins represent the environment our distant ancestors faced. But, glaciologists warn, even Greenland's ice may not last much longer.