Greenland & Baffin Island
Walrus are a keystone species and spend much of their time on shallow sea ice from which they can forage on the sea floor. © Gary Krosin
The Arctic Fox is a common sight in the Arctic tundra biome. Its deep thick fur is dark in summer and white in winter. © Peter Harrison
The Arctic Tern has the longest known migration of any animal, travelling from breeding grounds in Greenland to Antarctica and back again annually. © Aliscia Young
Ursus maritimus, the scientific name for Polar Bear, means 'Maritime Bear' and derives from the fact that they spend much of their time at sea. © Richard Sidey
The intimate, 132-guest, Silver Explorer is designed specifically for navigating waters in some of the world's most remote destinations. © Aliscia Young
It is estimated that between 15,000 and 30,000 icebergs are produced annually by the glaciers of Greenland. © Aliscia Young
Hikes offer spectacular views and the opportunity to see and learn about the dwarf shrubs, grasses, mosses, and lichens that make up Arctic tundra. © Aliscia Young
Baffin Island & Greenland Tour
Journey into the land of the midnight sun on this 19-day adventure, stopping at some of the most pristine and jaw-dropping destinations in the Arctic. Explore the crystalline icebergs, staggering wildlife, and colorful cliff-side villages of western Greenland. On Baffin Island, see the 1,000-foot limestone cliffs that are home to hundreds of thousands of nesting seabirds. Visit the ruins of the ill-fated Franklin Expedition on Beechey Island, and the majestic fjords of Northeast Baffin, with a chance to spot Narwhal, Belugas and Bowhead Whales, seals and Polar Bears. Sail on one of the world's most celebrated expedition vessels, the 354-foot Silver Explorer, and let our expert team of naturalists guide you through this spectacular and unspoiled terrain.
Due to the expeditionary nature of this itinerary, voyage highlights and wildlife listed are possible experiences but cannot be guaranteed. Our Expedition Team will work hard to ensure that opportunities for adventure and exploration are the best possible, taking into account the prevailing weather and wildlife activity.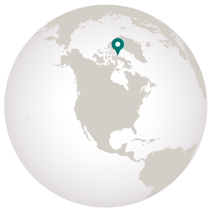 Destinations
Travel by Air
Travel by Road
Travel by Boat
Travel by Bullet Train
Travel by Rail
Travel by Dog Sled
Sunday, August 21: Copenhagen

Arrive in Copenhagen and transfer to the Crowne Plaza Hotel. Join your Apex expedition leaders this evening for a welcome dinner and briefing in the hotel. Overnight at the Crowne Plaza Hotel.

Monday, August 22: Copenhagen / Kangerlussuaq

After breakfast at our hotel, transfer to the airport for your flight to Kangerlussuaq. The scenery is sure to astound before you even touch down in Kangerlussuaq, the main gateway to Greenland. A former U.S. military base, Kangerlussuaq is located just above the Arctic Circle, and a short distance from the immense, 1,500-mile long and 2-mile high Greenland Ice Cap. On arrival, enjoy a drive through Arctic desert, tundra, and rolling countryside toward the edge of the Ice Cap in search of Caribou and shaggy Muskox before embarking the Silver Explorer, our expedition vessel and home for the next 19 days, for lunch. Toast the adventure to come as we set sail down the 100-mile-long Kangerlussuaq Fjord under the midnight sun. Keep an eye out for Peregrine Falcons, as this fjord hosts 130 of their nesting sites.

Tuesday, August 23: Sisimiut

A former whaling port and the second largest town in Greenland (pop. 5,600), Sisimiut's main trade is fishing, and the town accommodates a large fleet of trawlers and a modern shrimp-shelling factory. It is the southernmost town on Greenland's west coast in which sled dogs are used. Meet a sled dog team and their owners, who will tell us about sledding in Greenland and how the Greenlandic sled dog has been bred to be amongst the strongest working dogs in the world. Stroll among the town's charming jumble of 18th-century wooden buildings, making sure to stop in at the Sisimiut Museum and one of the local handicraft workshops to see a sampling of the beautiful native stonework and sealskin garments, and enjoy a performance by the local choir. This evening, sail through beautiful fjords, past abandoned villages.

Wednesday, August 24: Ilulissat

Be out on deck early this morning as we arrive in Disko Bay and dock in the town of Ilulissat, whose name actually means "icebergs." A UNESCO World Heritage Site, the town sits beside the Ilulissat Icefjord, a magnificent waterway whose towering glacier calves up to 20 million tons of ice per day—one of the fastest and most active glaciers in the world. In town, see a demonstration of ancient fishing methods and stop in at the small museum located in the former home of Greenlandic folk hero and famed polar explorer, Knud Rasmussen. The afternoon tour continues via fishing boat, as we navigate amongst the brilliant white and turquoise icebergs that often clog the fjord's entrance. Alternatively, conditions permitting, you have the option to purchase a helicopter excursion to see the magnificent Ilulissat Icefjord by air.

Thursday, August 25: Qilaqitsoq & Uummannaq

The waters just north of Disko Bay are rich in Minke, Sei, and particularly Fin Whales this time of year, so keep an eye out as we enter Uummannaq Fjord. Today we visit Qilaqitsoq to view the gravesite of the 500 year-old Thule "Greenland Mummies," where the best-preserved human remains in North America were discovered. They are now housed in the National Musuem in Nuuk. We then head to Uummannaq, which translates to "in the shape of a seal's heart" due to the 3,300-foot heart-shaped basalt mountain towering over it. A walk through town will take you past preserved sod houses (one of which was occupied until 1989) and an impressive granite church. You may also hike the mountain for a magnificent view towards the Nuussuaq Peninsula.

Friday, August 26: Upernavik

Upernavik means "the place of spring", where for centuries people came to fish, hunt, and trade when the ice broke up. Wildlife is certainly abundant here, and hunting is still crucial to the town's population. Birdlife includes Eider Ducks, Black Guillemots, Puffins, Little Auks and occasionally Common Loons. The mainstays of the area's hunter culture are Ringed Seals, Harp Seals, Hooded Seals, Bearded Seals and Walrus, all of which can be found this time of year in the waters around Upernavik. You'll be sure to see seal skins as you walk in town. The small open-air museum houses the northernmost Viking artifacts ever found.

Saturday, August 27: At Sea

Enjoy lectures by our onboard experts on the wildlife and history of the Canadian Arctic as we make the roughly 500-mile trip across Baffin Bay today. This day at sea affords us the chance to watch for White-beaked Dolphins, Minke Whales, seals and Walrus. Birders may spot Pomarine Skuas, Little Auks, Thick-billed Murres, Northern Fulmars, and Glaucous Gulls.

Sunday, August 28: Pond Inlet

Picturesque Pond Inlet at the northern tip of Baffin Island is considered one of Canada's 'jewels of the north.' Ringed by scenic mountains, it boasts awesome ice caves and hoodoos, and abundant wildlife. Orcas, Ringed and Harp Seals, Caribou, Arctic Foxes, Gyrfalcons, and Ptarmigan may all be spotted this time of year. Pond Inlet is renowned as a major center, maybe the center, of Inuit art, especially printmaking and stone carving. View a variety of techniques and styles used in creating these unique pieces in the galleries in town. A short trip across Eclipse Sound is the Bylot Island Migratory Bird Sanctuary, which provides nesting habitat for over 70 Arctic birds, including Thick-billed Murres, Black-legged Kittiwakes, and the largest breeding colony of Greater Snow Geese in the Canadian High Arctic.

Monday, August 29: Milne & Navy Board Inlets

Lancaster and Eclipse Sounds, which surround Bylot Island, are known to contain the richest proliferation of marine mammals in the eastern Arctic. In particular, the great unicorns of the sea—Narwhal—congregate here once the ice pack breaks up, to escape the ravaging Orcas, who hound them mercilessly in deeper waters. We'll spend today looking for Narwhal in the impressive Milne and Navy Board Inlets.

Tuesday, August 30: Prince Leopold & Beechey Islands

Prince Leopold, a small island further west in Lancaster Sound, is the most important station for breeding marine birds in the Canadian Arctic, with larger numbers and a greater diversity of species than anywhere else. The island is characterized by spectacular sandstone and limestone cliffs that rise almost 1,000 feet out of the water. This morning, board Zodiacs to get a close look around the island at the seabirds that make up the colony, including Black-legged Kittiwakes, Black Guillemots, Atlantic Brant, Parasitic Jaeger and Snow Bunting. Be on the lookout for Polar Bears patrolling the beach below the cliffs. North of Prince Leopold, just off the much larger Devon Island, lies the site of one of the most significant events in Arctic exploration, and one that has made thrilling news lately—Beechey Island, the last known layover in Sir John Franklin's 1845 expedition to find the Northwest Passage. Franklin's ships, the HMS Erebus and Terror, disappeared and all 129 men were lost. This afternoon we'll visit the graves of three of his seamen, which were uncovered on Beechey in 1850 and the remains of Northumberland House, built in 1852, as a base for recovery efforts. The whereabouts of the vessels have remained a mystery until September 2014, when the well-preserved Erebus was finally discovered off O'Reilly Island, some 485 miles south. There is no exaggerating the importance of the mythology that's come to surround Franklin's expedition—though the voyage was a failure, the relentless search for its relics led to much newly mapped territory.

Wednesday, August 31: At Sea

Our lecture series continues with presentations by the onboard team, who will introduce us to the awesome fjords of Northeast Baffin. Be sure to join the naturalists on deck as we continue our search for whales, dolphins and seabirds.

Thursday, September 1: Gibbs Fjord

Today, enjoy a spectacular cruise into Scott Inlet. Upon entering, feast yours eyes on the impenetrable fortress of 4,000-foot walls, towers, and buttresses that is Sillem Island, dividing Gibbs and Clark Fjords. As we circumnavigate the ice-capped island, keep your eyes peeled for the rare Bowhead Whale and Narwhal, as well as Polar Bears and seals on the ice floes, and Caribou roaming the mainland. Stops will be made to stretch our legs, with a chance to see Thule ruins, vast tundra, Arctic wildflowers and staggering views of the surrounding glaciers.

Friday, September 2: Sam Ford Fjord

South from Sillem Island stands this world-renowned 68-mile waterway lined with vertical walls etched into the mountains by ancient glaciers. Adventure travelers and climbers alike have called Sam Ford Fjord one of the most impressive sights in the world. There will be more chances to spot bears, seals, and whales as we cruise the fjord. We'll start out early, as the low light of sunrise is perfect for helping to spot the faint blow of the Narwhal.

Saturday, September 3: Clyde River

Nestled in the fjord landscape of the Baffin Mountains, this tiny hamlet of 850 people is within arm's reach of such amazingly beautiful glaciers, ice caps, tundra, icebergs and rugged Arctic coastline that the entire area is now a proposed territorial park site. Enjoy a walk through town led by a local guide, who will talk to us about the traditional Inuit way of life and show us Clyde River's famous 'Kangiqtugaapik' whalebone carvings.

Sunday, September 4: Isabella Bay

This newly-formed National Wildlife Area provides key protection for an estimated 1,500 to 2,000 Bowhead Whales that inhabit the area during the late summer and fall feeding periods. Bowheads have been recognized as threatened in Canada, and this is the first sanctuary in the world designed especially for them. Pending permission, we set out to spot these powerful creatures today, swimming alone or in herds of up to six whales. Bowheads are known for their massive bony skulls, which they use to break through ice up to 24 inches thick to breathe.

Monday, September 5: Cape Dyer

A trip past Cape Dyer this afternoon will reveal the Distant Early Warning (DEW) Line station, one of many such Cold War-era relics in the Arctic. Unlike others, this joint American-Canadian station is still in operation today. The coast around Cape Dyer is most likely where the Norsemen first landed when they crossed over to the New World from Greenland over 1,000 years ago. Moving south, we cross the Arctic Circle, past more of the spectacular scenery we've come to expect from eastern Baffin. As always, keep binoculars handy, as there's a chance to spot Polar Bears and seals on the ice floes.

Tuesday, September 6: Cumberland Peninsula

Today we embrace the expeditionary nature of our voyage as we cruise along the Cumberland Peninsula, scanning the dramatic shoreline for signs of Arctic wildlife. Zodiacs are at the ready to whisk us ashore as soon as our curiosity is piqued.

Wednesday, September 7: Lady Franklin & Monumental Islands

Today is our last day in Canada, as we travel 25 nautical miles east into the Davis Strait, to the isolated small islands of Lady Franklin and Monumental. Both were named in honor of Sir John Franklin, and both harbor many thrilling species of Arctic wildlife. These islands are exposed and may be subject to variable weather conditions, including fog and sea ice. Weather permitting, take a Zodiac cruise around Lady Franklin in search of stranded Polar Bears, Caribou, and Gyrfalcons. The exposed rocky cliffs of Monumental Island are host to numerous bird species and are an excellent place to spot Black Guillemots, Gyrfalcons, and Peregrine Falcons. Walrus have been known to haul out here. We'll look for them here and on the many skerries to the east of the island.

Thursday, September 8: At Sea

We recap our experiences and complete our onboard lecture presentations on the trip back toward Greenland. Be on deck as we approach the serpentine, 100-mile-long Kangerlussuaq Fjord, keeping an eye out for Peregrine Falcons, Gyrfalcon, and rare White-tailed Eagles. As the waning summer sun sets behind us, we toast the end of our Arctic journey.

Friday, September 9: Kangerlussuaq / Copenhagen

Disembark in Kangerlussuaq this morning, and transfer to the airport for your flight to Copenhagen. Upon arrival transfer to the Crowne Plaza Hotel for the night.

Saturday, September 10: Copenhagen

After breakfast, transfer to the airport for flights homeward.
Have a question? Call us at 206.669.9272 /
800.861.6425

. Prefer online? Get in Touch

Big Ice on the World's Largest Island
Geologically speaking, Greenland is an anachronism. Not long ago, as geologists measure time, vast ice sheets covered most of North America, extending down into Kansas and Tennessee. The last great relic of that mighty glacial complex is Greenland's ice cap. In that sense, the island is a window into the past, and its ice-free margins represent the environment our distant ancestors faced. But, glaciologists warn, even Greenland's ice may not last much longer.