Grizzly Bears are good swimmers and are often found on rivers and streams hunting for salmon, their favorite prey. © Kevin Clement
As North America's tallest mountain peak, the 20,310-foot Mount Denali dominates the landscape. © Kevin Clement
The shape and color pattern on the Humpback Whale's dorsal fin and tail are as individual as fingerprints are in humans. © Kevin Clement
Caribou are the only member of the deer family in which both the male and female grow antlers. © Kevin Clement
Orca Inlet on east side of Prince William Sound boasts the highest concentration of Sea Otters on Earth. © Alicia Freyman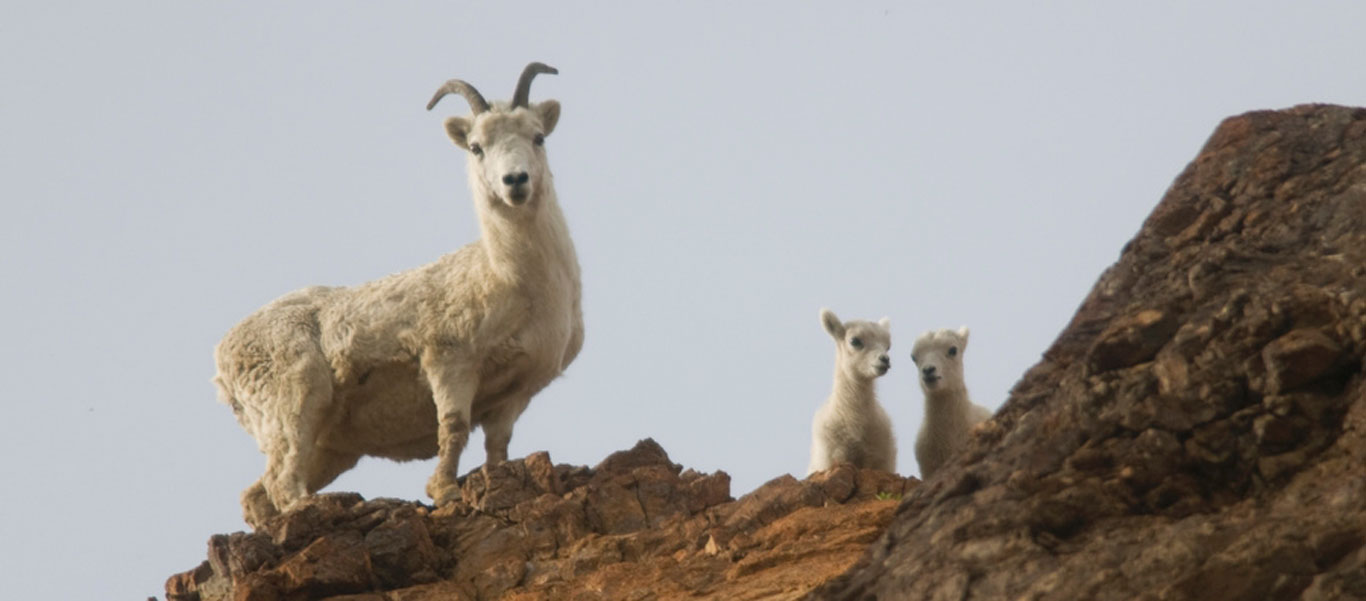 Dall Sheep, known for their massive, curled horns, use steep slopes for feeding, resting, and eluding pursuers. © National Park Service
Alaska Wildlife Tour
Alaska is vast, beautiful, and wild. Unfortunately, most visitors see very little of the state. They arrive on huge cruise ships and follow a well-beaten track. This Alaska wildlife tour, planned by longtime Alaskan and Apex founder, Kevin Clement, aims to get you off that beaten track and into the real Alaska. You'll fly by small plane from Prince William Sound over the Copper River and into the Wrangell Mountains, sail on an Alaska Marine Highway ferry, and drive the full length of the Denali Highway. You'll visit four spectacular national parks: Kenai Fjords, Lake Clark, Wrangell-St. Elias (America's largest), and Denali. And you'll find wildlife all along the way. Grizzly Bears, Caribou, Dall Sheep, Moose, Sea Otters, Humpbacks and other whales, Wolves, Steller's Sea Lions, puffins, and eagles are all on our list. This immersive journey with Apex is truly unique among Alaska land tours.


Destinations
Travel by Air
Travel by Road
Travel by Boat
Travel by Bullet Train
Travel by Rail
Travel by Dog Sled
Thursday, August 29: Arrive Anchorage, Alaska

Arrive in Anchorage, Alaska's largest city and set on the shores of beautiful Cook Inlet. Transfer to your hotel and enjoy a welcome reception and dinner with your fellow travelers and expedition leaders. Dinner and overnight at Hotel Captain Cook.

Friday, August 30: Anchorage / Seward

After breakfast, head out of Anchorage on the scenic Seward Highway, hugging the dramatic shorelines of Turnagain Arm on your right and Chugach State Park's 3000-foot mountains on your left. Stop for lunch in the mountain hamlet of Girdwood and enjoy a tram ride to the top of Mt. Alyeska. Take in the staggering views of the mountains, glaciers and Turnagain Arm below. Afterwards, continue on to Seward, a picturesque port city perched on the edge of Resurrection Bay. Visit the extensive Alaska SeaLife Center, the only cold-water marine-research facility in the Western Hemisphere, created as part of the Exxon Valdezoil-spill settlement. Enjoy dinner in town, and overnight at Seward Windsong Lodge.

Saturday, August 31: Seward / Kenai Fjords NP / Seward

After breakfast, board a sightseeing vessel to cruise the coast of Kenai Fjords National Park, 587,000 acres of jaw-dropping, mostly impenetrable wilderness. Crowning the park is the massive Harding Ice Field; from it, countless tidewater glaciers pour down, carving the coast into dizzying fjords. Spend the day at the Northwestern Fjord, home to three tidewater glaciers and numerous alpine glaciers. Look for Sea Otters, sea lions and seals, marine birds such as puffins and cormorants, and Orcas and Humpback Whales. Dinner and overnight at Seward Windsong Lodge.

Sunday, September 1: Seward / Cordova

Time permitting, spend the morning at Kenai Fjords NP's Exit Glacier, the only area of the park accessible by road. Take time to explore Exit, a striking example of Alaska's receding glaciers. Next, drive to Whittier and board the Alaska Marine Highway ferry for passage to Cordova. Sail over the calm waters of Prince William Sound, keeping an eye out for marine animals en route. Come to shore in the eccentric fishing village of Cordova, nestled at the head of Orca Inlet. Transfer to your hotel. Dinner and overnight at Orca Adventure Lodge, located in a rebuilt cannery from the 1880s.

Monday, September 2: Cordova

This morning, enjoy breakfast as you watch nesting Bald Eagles in the trees above the lodge. Orca Inlet also boasts the highest concentration of Sea Otters on Earth, and you can see many of them from the lodge's beach. Afterwards, drive through the scenic Chugach National Forest to Child's Glacier. Explore the Copper River Delta system and enjoy a picnic lunch with views of the glacier. Dinner and overnight at Orca Adventure Lodge

Tuesday, September 3: Cordova / Wrangell-St. Elias National Park

After breakfast, explore Orca Inlet by cruise boat or kayak, searching the sloughs, mudflats, saltwater marshes, and freshwater ponds along the shoreline for eagles, Harlequin Ducks and Dusky Canada Geese. See Harbor Seals, Sea Otters and whales in the inlet. This afternoon, pack up your belongings and enjoy a charter flight up the Copper River. This is one of Alaska's most impressive wilderness waterways, and the flight route takes you along the Wrangell and Chugach mountain ranges en route to Kennicott. Your lodge is located in the heart of the Wrangell-St. Elias National Park, the largest national park in the U.S. More than 100 glaciers and some of North America's tallest peaks reside among the park's 13.2 million acres. Arrive at your hotel, and enjoy dinner and overnight at Kennicott Glacier Lodge.

Wednesday, September 4: Wrangell–St. Elias National Park

Today, you have the option to strap on mountaineering crampons and hike atop the exquisite Root Glacier. The trek is suitable for all skill levels, and will not soon be forgotten. Explore Root's moulins, seracs, blue water pools, and fascinating ice formations. Gaze at 16,390-ft. Mt. Blackburn in the distance. Those who don't desire to hike the glacier may explore the erstwhile copper boomtown of Kennicott and take a tour of this impressive ghost town, which once held the richest known concentration of copper ore in the world. Dinner and overnight at Kennicott Glacier Lodge.

Thursday, September 5: Glennallen / Denali National Park

After breakfast, enjoy a charter flight west to Glennallen. From here, drive over the spectacular Denali Highway, once the only access road to Denali NP. Today, the Denali Highway is an oft-overlooked treasure. Much of the route lies above timberline, so the views go on forever. The mountains and glaciers of the Alaska Range form a majestic backdrop, with miles of rolling tundra punctuated by shallow lakes and the remnants of gold mines in between. Arrive at your lodge at the eastern edge of the 6 million-acre Denali National Park, and enjoy dinner at 229 Parks Restaurant. Overnight at Carlo Creek Cabins.

Friday, September 6: Denali National Park

Denali National Park was created in 1917 to protect Dall Sheep from over-hunting. Today, the park has grown in size and purpose. Amazingly, there is only one road within it, and hiking trails are kept close to this road, and mainly by the park entrance. The rest of the park remains for the animals, of which there are many: bears, wolves, Moose, Caribou, Dall Sheep, foxes and marmots are but a few of the mammals found here, and raptors of many varieties pepper the skies. This morning, acquaint yourself with the park at the Denali NP Visitor's Center. Then, settle in for a shuttle ride deep into the park, to Camp Denali in the remote old mining community of Kantishna. En route, see taiga forest give way to high alpine tundra and snowy mountains, culminating in North America's tallest peak, 20,310-foot Denali. Your driver is a trained naturalist, and will be on the lookout for wildlife, as this is one of the best opportunities for animal spotting in the park. The lodge is situated on a tundra ridge above Moose Creek Valley, and boasts views of the crests of Denali and six other major peaks of the Alaska Range. Dinner and overnight at Camp Denali.

Saturday & Sunday, September 7 & 8: Denali National Park

Over the next two days, expert guides will lead backcountry outings around Wonder Lake and more of the park's trail-less wilderness. There will be ample opportunity to view wildlife at close range. Each evening at the lodge, the naturalists and visiting specialists will present programs to increase your understanding of Kantishna and the sub-arctic. Dinners and overnights at Camp Denali.

Monday, September 9: Denali National Park / Fairbanks / Homer

This morning, enjoy the 90-mile return bus drive to the park entrance, stopping for wildlife along the way. At the Denali rail depot, climb into vehicles and begin your overland journey to the nearest commercial airport in Fairbanks. As you head north, catch spectacular views of Denali beside you. In Fairbanks, board a scheduled flight for Homer, via Anchorage. Arrive at "The End of the Road," as Tom Bodett famously calls Homer, in the late afternoon and take some free time to amble its charming streets. Though a tourist haven, Homer has retained an eccentric, artsy vibe that is evident in its shops and cafes. Stand at the harbor on Homer Spit and gaze out over glittering Kachemak Bay. Turn, and take in the staggering mountain panorama behind the town. Dinner and overnight at Land's End Resort.

Tuesday, September 10: Homer

After breakfast, continue your exploration of Homer with a visit to the Pratt Museum, which highlights historic and contemporary life around Kachemak Bay. Visit the marine gallery, which holds more than 75 species of fish, birds and sea mammals, including the rare Bering Sea Beaked Whale, Steller Sea Lion, Beluga and Sperm Whales. The nearby Islands and Oceans Visitors Center offers visitors a comprehensive view of the research that goes on at the Alaska Maritime National Wildlife Refuge. Enjoy a natural history walk on the beaches and woods of Homer with expert local guide Conrad Field, followed by lunch and an afternoon at leisure. Dinner and overnight at Land's End Resort.

Wednesday, September 11: Lake Clark National Park / Anchorage

Early this morning, transfer to the floatplane base for a flight to the incredibly remote Redoubt Mountain Lodge, in the heart of the Chigmit Mountains in Lake Clark National Park. The lodge is the only privately owned property on the 9-mile long, glacier-fed Crescent Lake, one of the best areas in Alaska for Black and Brown Bear viewing. Disembark and board a deluxe pontoon boat. Cruise the lake with an experienced guide, searching for bears along the water's edge. Take a break in the early afternoon to enjoy lunch, followed by more bear viewing, either by boat or from the main lodge deck. From Redoubt Mountain Lodge, return to Anchorage by floatplane. Toast to your epic adventure at a farewell dinner this evening. Dinner and overnight at Hotel Captain Cook.

Thursday, September 12: Depart Anchorage

This morning, bid farewell to your fellow travelers and transfer to the airport for your flights home.
Have a question? Call us at 206.669.9272 /
800.861.6425

. Prefer online?Get in Touch

The Song of the Humpback
Perhaps the most interesting behavior of Humpback Whales is their singing. Scientists have discovered that Humpbacks sing long, complex songs. A typical song lasts from 10-20 minutes, is repeated continuously for hours at a time, and can be heard more than 20 miles away. While both male and female Humpbacks can produce sounds, only the males appear to produce organized songs with distinct melodies. Scientists are unsure about what the songs mean, but believe they are used to attract females or to issue threats to other males.