Despite weighing as much as 800 pounds, Grizzly Bears are excellent swimmers and can also run as fast as 35 mph. © Kevin Clement
Humpback Whales are solitary creatures, but can often be seen feeding cooperatively using a technique called bubble net feeding. © Carl Richards
Bald Eagles will swoop down on their prey at speeds of up to 100 mph, snatching fish out of the water using their sharp talons. © Carl Richards
Southeast Alaska welcomes you with unspoiled wilderness, lush rainforest and wildlife-rich waters. © Carl Richards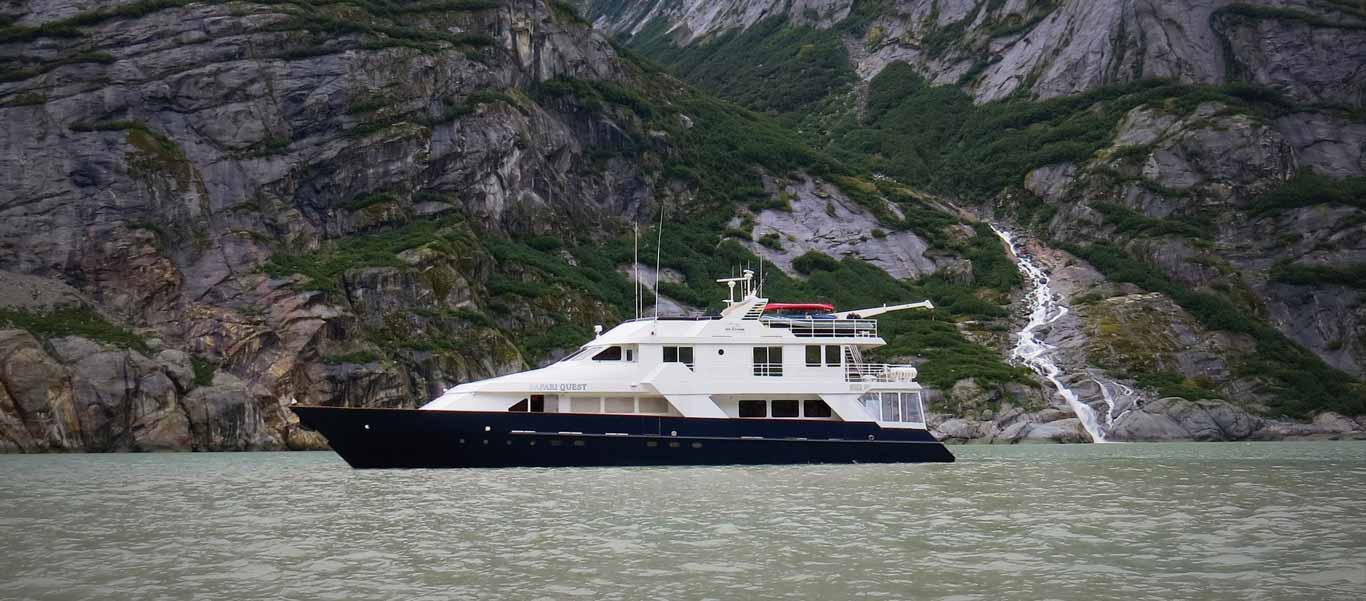 You'll explore Alaska's Inside Passage aboard the 120-foot Safari Quest, reaching tiny nooks and wilderness areas larger ships can't access.
Alaska Inside Passage Cruise and Adventure
This is iconic Alaska, where Bald Eagles cry above stands of Sitka Spruce, and massive glaciers calve into waters teeming with whales, seals and seabirds; where satiated brown bears cavort at the ocean's edge as the salmon run for the rivers. Join Apex on a 13-day journey through Southeast Alaska's unspoiled wilderness, far from the cruise ship crowds and tourist towns, through a mosaic of fjords, inlets, islands and iceberg-flecked bays, in the company of local resident and Apex co-founder Kevin Clement. Enjoy an Alaska Inside Passage cruise aboard the 120-foot boutique yacht, Safari Quest, as you watch for Humpbacks breaching in the tranquil channels; hike through temperate rainforest among Moose and Mink; hear the thunderous calving of 200-year-old ice; kayak in a sheltered cove in Glacier Bay National Park; and attend a traditional native dance in a Tlingit clan house. See for yourself why coastal Alaska remains so iconic, and so beloved.


Destinations
Travel by Air
Travel by Road
Travel by Boat
Travel by Bullet Train
Travel by Rail
Travel by Dog Sled
Monday, July 12: Arrive Sitka, Alaska

Touch down in this historic city, with its vibrant mix of Tlingit, Russian and American influences. Transfer to your hotel, then get to know your fellow travelers and expedition leader at a welcome dinner in town. Overnight at Westmark Sitka.

Tuesday, July 13: Sitka

Enjoy breakfast at the hotel, then set out on a sightseeing tour of Sitka. See vestiges of the city's Russian heritage around every corner—it was the capital of Russian Alaska in the 18thand 19thcenturies—as you wind through its charming streets. Visit the onion-domed St. Michael's Russian Orthodox Church; Fortress of the Bear, a rehabilitation center for injured and orphaned brown bears; and Sitka National Historic Park, Alaska's smallest national park and the site where the Tlingits were defeated by the Russians in 1804. Walk the rainforest-clad Totem Trail, which winds its way past 18 perfectly restored totems. At the Raptor Rehabilitation Center, enjoy close-up views of convalescing Bald Eagles, hawks, falcons and owls. Attend a rousing dance and storytelling performance by the Sheet'ka Kwaan Naa Kahidi Dancers, held in a traditional Tlingit clan house. Enjoy dinner in town, and overnight at Westmark Sitka.

Wednesday, July 14: Sitka / Juneau

After breakfast, transfer to the airport for a short flight east to Juneau. Take an aerial tram up Mount Roberts for stunning views over the harbor from 1,800 feet up. Enjoy lunch in town, followed by a trip to the Mendenhall, the closest of the icefield's glaciers, with a stunning half-mile wide face. Hike to Mendenhall Lake, the source of Juneau's icebergs, and see the ice face up close. Explore the visitor center, which houses several glaciology exhibits. Bears may be spotted feasting on salmon in the nearby stream. Return to Juneau and visit the Alaska State Museum, with beautifully curated exhibits on the state's cultural and natural history. Walk to a nearby restaurant for dinner. Overnight at Best Western Baranof.

Thursday, July 15: Juneau / Pack Creek / Juneau

After breakfast, head to the waterfront to board a floatplane for nearby Admiralty Island, and the Pack Creek Bear Sanctuary, home to one of the densest populations of Coastal Brown Bears in the world. It is the height of the salmon run, and bears converge on the beach where the creek meets the sea. Settle in and watch their deft fishing strategies. You may spot mothers playing with their babies, and young males sparring. Hike through pristine old growth forest to an observation tower to watch bears fish higher upstream. Return to Juneau this afternoon and have dinner in town. Overnight at Best Western Baranof.

Friday, July 16: Juneau / Embark Safari Quest

After breakfast, board a floatplane for a spectacular "flightseeing" tour of some of the Juneau Icefields' 1,500 square miles. Soar over the deep crevasses and impossibly blue meltwater pools of the Norris, Hole-In-The-Wall, East and West Twin Glaciers, and the mighty Taku—five miles at its base and still advancing. Watch for goats, Moose, and bears on the flight back. Enjoy a tour of the Alaskan Brewing Company before lunch. This afternoon descend to the ship dock and embark the 120-foot Safari Quest, your home away from home for the next 6 nights.Meet the ship's captain and crew, and toast to the journey to come as you push off from the dock and sail into the Inside Passage.

Saturday–Wednesday, July 17–21: Northern Inside Passage

For the next five days, travel clockwise around Alaska's Inside Passage aboard Safari Quest. Take a skiff into Endicott Arm, a spectacular fjord with waterfalls tumbling from glacially carved cliffs. Look for Harbor Seals, Harbor Porpoises, Arctic Terns and Bonaparte Gulls on the water while mountain goats and bears can be spotted along the shore. See the soaring Dawes Glacier up close and, with luck, witness a section calve off its face with a thunderous roar. Kayak or paddleboard through the tidal flats, into a "salt chuck," or saltwater lake that's filled with incoming tides, at Port Houghton. The area is a smorgasbord for wildlife, and Black Bears, Moose, Mink, Bald Eagles and more are known to come down to lick the salt off rocks and eat exposed mussels, limpets and rockweed. Sail through Frederick Sound and Chatham Strait, keeping an eye out for large pods of Orca and Humpback Whales, here for the summer to feed. Land on Baranof and Chichagof Islands, and enjoy inland hikes through stunning forests and wildflower-speckled meadows. Explore among the small, scattered Inian Islands, where an abundance of Steller Sea Lions and Sea Otters reside, as well asmurrelets, gulls, terns, eagles, bears, Sitka Black-tailed Deer, martens, Minks and otters. Also explore Glacier Bay National Park, which covers 3.3 million acres along the coast west of Juneau. Dinners and overnights aboard the Safari Quest.

Thursday, July 22: Disembark Safari Quest / Gustavus

Spend the morning searching for whales, seals and Dall's Porpoises in the rich waters of Icy Strait. After lunch, disembark Safari Quest in Gustavus, home to your intrepid leader, Kevin. The village of Gustavus has a population of 442 and is not connected to the road system, so is only accessible by plane or boat. Drop by local galleries and absorb the quirky atmosphere of the place before enjoying dinner and overnight at Bear Track Inn.

Friday, July 23: Gustavus

This morning, you may choose to kayak in Bartlett Cove, surrounded by lush rainforest, looking for Sea Otters and seals in the water, and bears and Moose on the shore. Afterward, enjoy a guided hike through the spruce and hemlock forest near the lodge. Transfer to Glacier Bay Lodge within the park for lunch. This afternoon visit local raconteur, musician, and National Geographic author Kim Heacox at his newly-founded John Muir Institute. Tonight, return to the lodge for a farewell dinner with your fellow travelers. Overnight at Bear Track Inn.

Saturday, July 24: Gustavus / Juneau / Depart Alaska

Enjoy one last breakfast at the lodge, before heading to the airstrip for a short flight to Juneau, then on to your individual flights home.
Have a question? Call us at 206.669.9272 /
800.861.6425

. Prefer online?Get in Touch

Bubble Net Feeding Technique of Humpbacks
Humpbacks are large baleen whales that feed on small prey such as krill or herrings. They can often be seen feeding cooperatively using a technique called bubble net feeding. Working together in teams of at least two individuals, the whales will herd small fish into a tightly packed school. They do this by forming a bubble net, created by blowing air bubbles while swimming in circles beneath their prey. Once the fish are corralled, the whales surge upward through the bubble net, mouths wide open, efficiently catching thousands of fish in one gulp.