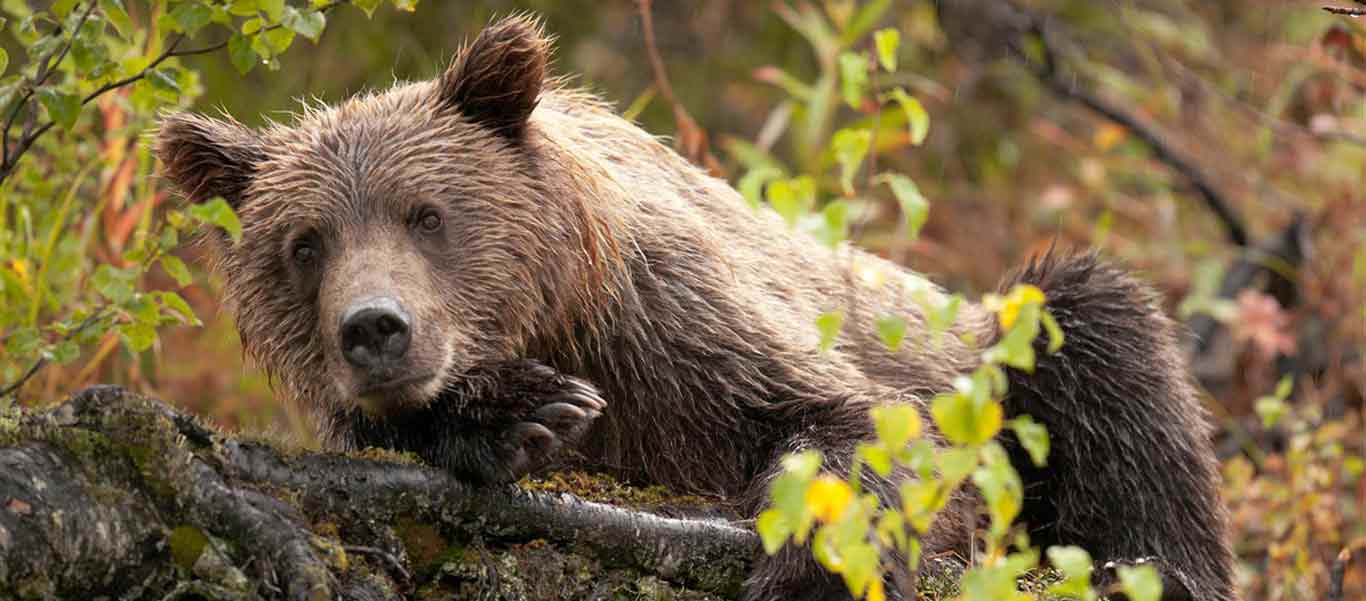 Solitary in nature, brown bears typically live along the southern coast of Alaska where they have access to seasonally abundant spawning salmon. © Doug Green
In the fall months, Polar Bears come on shore near the Inupiat village of Kaktovik as they wait for the freeze up in the Beaufort Sea. © Ingrid Nixon
Explore Crescent Lake's tributaries and meandering waterways by kayak, keeping watch for bears, moose, wolves, and a plethora of waterfowl. © Redoubt Mountain Lodge
Be sure to enjoy Mother Nature's nightly show as the dramatic colors of an Alaskan sunset welcome the evening sky! © Kevin Clement
The Polar Bear's large paddle-like feet are well suited for swimming and for dispersing the weight of the bear when hunting on ice. © All Alaska Private Touring
Lake Clark National Park has been called "the essence of Alaska". Enjoy spectacular views from Redoubt Mountain Lodge in the heart of the Chigmit Mountains. © Redoubt Mountain Lodge
Alaska Bear Viewing Adventure
There is little in this world as exciting as watching Alaskan great bears in their natural habitat, basking in the northern sun, sparring on wildflower-speckled grasslands and caring for their young. But seeing them at the height of their summer feasting season is a pleasure beyond description. On this nine-day expedition, Apex will take you to the best bear-viewing spots to see Alaskan Peninsula Brown Bears, and Polar Bears in the only location in the United States where they are found. Explore this last bastion of unsullied American wilderness by vehicle, boat, train and plane, and discover some of the most remote corners of Alaskan bear territory.


Destinations
Travel by Air
Travel by Road
Travel by Boat
Travel by Bullet Train
Travel by Rail
Travel by Dog Sled
Monday, September 11: Fairbanks, Alaska

Arrive in Fairbanks, the largest city in the Interior region of Alaska, and transfer to your hotel near the beautiful Chena River in the heart of the city. Meet your fellow travelers and expedition leader, Kevin Clement, for a welcome dinner and briefing. Overnight at Taste of Alaska Lodge.

Tuesday, September 12: Fairbanks / Kaktovik

After breakfast, transfer to the airport for a flight north to Barter Island, on the Beaufort Sea. The Inupiat enclave of Kaktovik is the only village in the Arctic National Wildlife Refuge, and the nearby sandbanks are home to an impressive number of Polar Bears. This is, in fact, the only place to see Polar Bears in the United States. This afternoon, board a boat for Polar Bear viewing activities outside town. Overnight at Marsh Creek Inn.

Wednesday, September 13: Kaktovik

Return by boat this morning to see the bears at their most active, during the morning hours. Return to town for lunch before heading to the whalebone piles—remains of Bowhead Whales left onshore after the fall hunt by the local Inupiat people. Here, bears congregate to feast on the last flesh clinging to the whalebones (in fact, these bears are quickly coming to rely on this seasonal treat, and are waiting longer and longer to head off to the sea ice in search of seals). Dinner and overnight at Marsh Creek Inn.

Thursday, September 14: Kaktovik / Fairbanks

Enjoy breakfast at the hotel, followed by a last boat trip to watch Polar Bears. Fly back to Fairbanks this afternoon and tour the city. See its historic downtown and learn of its Gold Rush beginnings. Visit the Museum of the North, which includes a 36,000-year-old mummified steppe bison and a rousing exhibit on the Aurora Borealis. Head to Creamer's Field Migratory Waterfowl Refuge, a 2,000-acre habitat where Northern Pintail Ducks and Golden Plovers will be stopping on their biannual migrations. Moose, Marmots, Snowshoe Hares and Red Fox are also common sightings here. View the Trans-Alaska Pipeline, an 800-mile engineering feat that still transports 25 percent of our nation's oil. Dinner and overnight at Taste of Alaska Lodge.

Friday, September 15: Fairbanks / Talkeetna

This morning, transfer to the rail depot and board a luxury dome car for a breathtakingly scenic trip to Talkeetna. Cross the Hurricane Gulch Bridge, 296 feet above the gulch floor. Catch glimpses of nesting Bald Eagles along the shores of the Susitna River, and keep a lookout for spawning salmon in the streams. Talkeetna is located at the confluence of three rivers, in the shadow of the hulking Denali. If the weather is on our side, enjoy second-to-none views of the nation's tallest peak from this charming historic town. Dinner and overnight at Susitna Rover Lodge.

Saturday, September 16: Talkeetna / Anchorage

After breakfast, head out for an invigorating guided hike on the Talkeetna Lakes trail. The lush old-growth forest is alive with birds, wildflowers, berries and mushrooms. Look for loons and kingfishers on the lakes, Moose and bears in the woods, and Denali on the horizon. In the early afternoon, board vehicles for a trip south to Anchorage. Enjoy staggering views of the Alaska and Talkeetna ranges, Chugach Mountains, and Matanuska-Susitna Valley, one of the most important agricultural areas in Alaska, during the drive. Arrive in Anchorage and enjoy dinner in town and overnight at Hotel Captain Cook.

Sunday, September 17: Anchorage / Lake Clark National Park

This morning, transfer to the airport for a charter flight to the incredibly remote Redoubt Mountain Lodge, in the heart of the Chigmit Mountains. The lodge is the only privately-owned property on the 9-mile-long, glacier-fed Crescent Lake. The surrounding 4.1 million acres is Lake Clark National Park and Preserve. Have lunch at the lodge, followed by a choice of afternoon activities. This area is regarded as having some of the best brown bear viewing in the state, and bears can be viewed from the main lodge deck, as well as by boat. There are also hiking trails for all levels that start mere feet away from the lodge, and fishing gear is available. Dinner and overnight at Redoubt Mountain Lodge.

Monday, September 18: Lake Clark National Park

Spend a full day taking in the bustling wildlife activity around Crescent Lake. Flat-bottomed boats enable us to quietly access shallow waters to view feeding bears up close, or paddle along the lake shore in a kayak and keep your eye out for Moose, wolves, and a plethora of waterfowl. Dinner and overnight at Redoubt Mountain Lodge.

Tuesday, September 19: Lake Clark National Park / Anchorage

Enjoy one last breakfast in this beautiful setting, before boarding a charter flight back to Anchorage. Take a guided tour of this buzzing metropolis (relative to other Alaskan cities), including its historic downtown, the Ship Creek fish ladder, and Lake Hood, the largest float plane base in North America. Visit the Anchorage Museum, the largest museum in Alaska, with a wide-ranging collection on the art, history, and cultures of the state. Afterwards, bid farewell to your fellow travelers and transfer to the airport for your evening flights home.
Have a question? Call us at 206.669.9272 /
800.861.6425

. Prefer online?Get in Touch

Polar Bears of the Southern Beaufort Sea: Surviving Climate Change
With a worldwide population now estimated at 26,000, the Polar Bear was listed as threatened in 2008 under the Endangered Species Act. The rapid decline of sea ice due to climate change is the primary threat to Polar Bears that depend on ice to hunt, breed, and raise their young. Within the United States, the Southern Beaufort Sea sub-population of approximately 900 bears can be observed in Alaska on Barter Island and the small Inupiat village of Kaktovik where bears come to rest and feed on hunter-harvested Bowhead Whale remains during the ice-free fall months.