Banda Sea
September 19 – October 2, 2020
Named for the distinctive structure of its head, the Hammerhead Shark's wide-set eyes allow it to more easily find stingrays, its favorite prey.
The Giant Moray Eel is the only animal in the world to use a second set of jaws while hunting, to capture and restrain their prey. © Giovanna Fasanelli
With an iridescent apple-green and light blue body, the Blue Green Chromis is one of the colorful reef fish you'll encounter. © Giovanna Fasanelli
With a white body and red stripes, the Longnose Hawkfish is often found perched on and camouflaged by a Red Gorgonian Sea Fan. © Giovanna Fasanelli
Spend 10 nights aboard the 16-guest Blue Manta as you discover some of the world's most remote dive and snorkel sites.
The Yellowstripe Scad is a schooling species of predatory fish that feeds on crustaceans and a variety of planktonic prey. © Giovanna Fasanelli
Banda Sea Diving
There was a time when the Molucca Islands, in Indonesia's Banda Sea, were the center of the colonial universe, causing diplomatic havoc over their rare and coveted spices. But then it seems this corner of the world was "forgotten," left to the indigenous islanders and magnificent flora and fauna, both above and below water. Lucky for you, because to dive in the Moluccas is to experience a pristine, and ecologically vibrant, paradise. Join Apex on this 14-day Banda Sea diving adventure. You'll muck dive off Ambon Island, then move to a liveaboard vessel and venture to the most remote reaches of the archipelago. See massive coral gardens as you dive and snorkel with swarms of brightly-colored fish. Swim with hulking pelagic predators like Dogtooth Tuna, and visit "Hammerhead hot spots," frequented by schools up to 200 strong. Spot dolphins, whales and sea turtles as you explore off smoldering volcanic islands of staggering beauty on this spectacular Banda Sea dive trip.


Destinations
Travel by Air
Travel by Road
Travel by Boat
Travel by Bullet Train
Travel by Rail
Travel by Dog Sled
Saturday, September 19: Arrive Ambon, Maluku Province, Indonesia

This afternoon, arrive in the capital of Maluku Province, which encompasses the southern Molucca islands, and transfer to your resort on secluded Baguala Bay, away from the bustle of downtown Ambon. Get to know your fellow travelers and expedition team at a welcome dinner and briefing this evening. Dinner and overnight at Maluku Resort and Spa.

Sunday & Monday, September 20 & 21: Ambon

For the next two days, immerse yourself in one of the world's premier muck diving locations. Muck diving, a type of Macro diving, has advantages over clear water diving because mucky areas are rich in both nutrients and hiding spots, providing the perfect habitat for some of the rarest and most unusual underwater creatures. What's more, the black sand in these diving spots makes great photographic backgrounds. Long in the shadow of the more famous Lembeh Straits, newly "discovered" Ambon now holds its own in terms of both overall marine diversity and in the likelihood of encountering such well-known "muck superstars" as Mimic and Wonderpus Octopus, Flamboyant Cuttlefish, Harlequin and Coleman Shrimp, Ambon Scorpionfish and Cockatoo Waspfish, even exceeding Lembeh in sightings of the gaudy Paddleflap Scorpionfish, in the genus Rhinopias, the extraordinary White-spotted Stargazer, and the endemic Psychedelic Frogfish. Maluku Resort's diving outfit offers three dives a day in Ambon Bay. Since many of these muck sites are relatively shallow, free-diving snorkelers can also enjoy many of these muck attractions, or commence the fish-listing in earnest at a wide variety of coral-rich sites. Sightseeing in Ambon City, visits to Waai Waterfall and Tulehu Hot Springs, or birding for Ambon White-eye, the single avian endemic, are other possibilities. Dinners and overnights at Maluku Resort and Spa.

Tuesday, September 22: Ambon / Embark Blue Manta

Today, transfer to the exquisite Blue Manta, your luxurious liveaboard vessel for the next ten nights, and your ticket to some of the world's most remote dive and snorkel sites. With diversity to rival Raja Ampat but none of the crowds, settle in and head east, on the ultimate marine adventure through the Banda Sea. Dinner and overnight aboard the Blue Manta.

Wednesday, September 23: Lease Islands—Saparua & Nusa Laut

The Lease Islands lie on the northern side of Maluku Province. Diving sites dotted around Saparua and Nusa Laut are rich and varied, offering a multitude of coral gardens and steep slopes that provide a first taste of the area's famous marine diversity. Clouds of damsels dance over reefs coursing with a kaleidoscope of butterflyfishes, wrasses and parrotfishes. Both Blacktip and Whitetip Reef Sharks, and Green and Hawksbill Turtles, are plentiful, while encounters with Banded Sea Kraits are no rarity. Bottlenose Dolphins and Minke Whales have also been found in the area. With extreme luck, spot Dugongs feeding on the seagrass flats. Enjoy three dives or snorkels around these islands, then return to the Blue Manta for dinner and an overnight sail south to the Banda Islands.

Thursday & Friday, September 24 & 25: Banda Islands

Located 110 miles southeast of Ambon and surrounded by the 16,000-foot-deep Banda Sea, the Bandas were once the center of the Spice Islands. Coveted for their bountiful nutmeg and mace, the Dutch traded Manhattan for one of these remote specks of land. Spend two full days snorkeling and diving around the Bandas, known for their excellent visibility and fantastic coral coverage. Because of the depth of the Banda Sea, these eleven islands are a meeting point for pelagic predators. Three of the most noteworthy are Dogtooth Tuna, Giant Trevallies and Mobula Rays. At most sites, you'll see enormous schools of fusiliers and Redtooth Triggerfish. At the other end of the size spectrum are Ambon Scorpionfish and the elusive Mandarinfish. The Bandas are also home to the largest known Napoleon Wrasse population in Indonesia, with sightings on almost every dive. Cetaceans are frequent visitors too, with divers occasionally reporting sightings of Spinner Dolphins and Humpback Whales. Orcas, Melonhead, Long-finned Pilot, and even Blue Whales frequent the deep, and may be seen while cruising. Enjoy three dives or snorkels each day and a visit to one of the Spice Islands for a taste of local culture.

Saturday-Wednesday, September 26-30: Ring of Fire

Known as Banda Sea's "Forgotten Islands," the Barat Daya Islands lie in the southern portion of the Moluccas. Part of the Inner Banda Arc, these islands are volcanic and form an active part of the Pacific Ring of Fire. Spend a full five days diving and snorkeling around this extremely remote archipelago. See every color of soft coral; schooling barracudas, snappers and trevallies; immense "herds" of grazing Bumphead Parrotfish; and incredible smoking seamounts around Manuk. The main focus, however, will be locating schools of Scalloped Hammerheads. Diving with groups of hammerheads is an increasingly rare opportunity anywhere, but this remote area still boasts a healthy population and your visit coincides with the optimal season for witnessing this phenomenon. With luck, find large schools swimming in formation, one of the absolute pinnacles of any marine enthusiast's experiences. Night dives are also highly productive here, with rarely seen species like Flashlightfish and Blue-ringed Octopus. Between dives, see the smoking volcano on Serua, or visit a small village on one of the Forgotten Islands.

Thursday, October 1: Hukurila Cave & Molana / Ambon

Sail back toward Ambon, taking advantage of one final day to explore in the Lease Islands off Molana and in southern Ambon, at the Hukurila Cave and Wall. This evening, toast to the memories made and the magnificent photographs captured at a farewell dinner on board.

Friday, October 2: Disembark Blue Manta, depart Ambon

After breakfast, bid farewell to the Blue Manta and transfer to the airport for your international flights home.
Details
September 19 – October 2, 2020
$14,970

Per Person Rate

$19,870

Solo Rate

14 days

Trip Length

16 guests
Ambon

Start/End
In addition to all tour services from arrival in Ambon through departure from Ambon as described in the itinerary, the trip price includes all gratuities; services of an Apex expedition leader, plus local guides throughout; and local beer and wine with lunch and dinner daily.
The Fine Print

Call us to reserve your spot on this exciting expedition!
Have a question? Call us at 206.669.9272 /
800.861.6425

. Prefer online?Get in Touch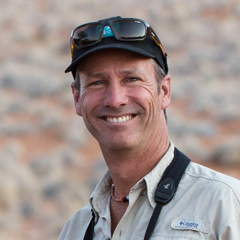 Jonathan is excited to explore these vibrant coral reefs and encounter huge schools of Hammerhead Sharks.

Why Hammerheads have such an unusual-looking head
Unlike most sharks, Hammerheads usually swim in large schools during the day, sometimes numbering in the hundreds. At night, they become solitary hunters. The unique shape of the Hammerhead Shark's head allows it to see better than other sharks. Their wide-set eyes give them practically a 360-degree range of vision so they can more thoroughly scan the ocean for food. Hammerheads are also able to detect the electrical fields created by prey animals such as stingrays (their favorite meal) buried in the sand. Once located, Hammerheads will use their large heads to pin the stingray against the seafloor before it can sting.