Patagonia
October 18–29, 2017
At the southern tip of the Andes, Torres del Paine National Park is dominated by the huge massif known as the Cordillera del Paine.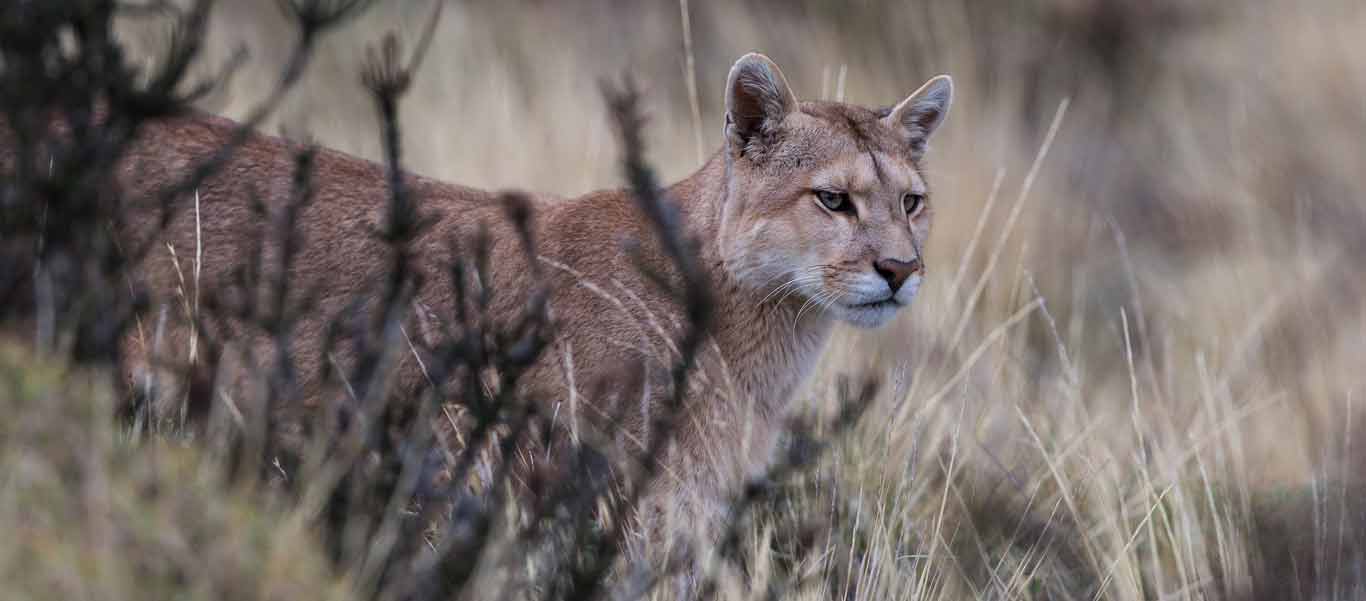 Patagonia's apex predator, the elusive Puma has incredibly powerful hind legs that allow it to ambush unsuspecting prey. © Giovanna Fasanelli
The shores of Patagonia are scattered with large breeding colonies of Magellanic Penguins that return to reclaim their burrow and mate with the same partner year after year.
The Patagonian ice cap in Los Glaciares National Park is the largest non-polar ice field on earth and third largest after Antarctica and Greenland.
Guanacos are humpless camelids of the arid and semi-arid habitats of southern South America.
An important wildlife sanctuary, Peninsula Valdés is a promontory that protrudes 62 miles into the South Atlantic Ocean.
Large, flightless birds of the Patagonian steppe, Darwin's Rheas are one of the South American ratite, relics of Gondwanaland.
Patagonia Adventure Tour
If Patagonia really is the "end of the world," as it is known by adventure travelers, that end is certainly dramatic. This pristine and wild region at the southern-most tip of South America has no shortage of jaw-dropping sights, from the Seussian spires of the Towers of Paine, to the thundering chunks of ice tumbling from the Perito Moreno glacier in Los Glaciares National Park. Its haunting landscapes have been chronicled by the likes of Darwin, W.H. Hudson, and St. Exupéry. Apex Expeditions' Patagonia adventure tours itinerary will take you to the iconic highlights of this remote region, focusing on the staggering array of wildlife on offer—from the ubiquitous Llama-like Guanaco and the majestic Andean Condor to the ghost-like Puma of Torres del Paine National Park.

Destinations
Travel by Air
Travel by Road
Travel by Boat
Travel by Bullet Train
Travel by Rail
Travel by Dog Sled
Wednesday, October 18: Arrive Buenos Aires, Argentina

Arrive in Argentina's capital and transfer to your hotel in the elegant Recoleta district. Meet your fellow travelers and expedition leader, Kevin Clement, for a welcome dinner and briefing at a neighborhood restaurant. Overnight at Hotel Emperador.

Thursday, October 19: Trelew / Punta Delgada, Peninsula Valdés

Depart Buenos Aires on a flight to Trelew in Argentina's wildlife-rich Chubut Province. Upon arrival, drive through this treeless landscape, with endless knee-high scrub, dotted by windmills and the occasional Guanaco. Stop in Puerto Madryn, the main town in the Peninsula Valdés area, and visit the Ecocentro Museum, which marries art and science beautifully in its exhibits celebrating the local marine ecosystem. Drive farther onto the peninsula with a stop for lunch in Puerto Pirámides, before boarding a boat for some prime Southern Right Whale watching. Afterwards, continue to Punta Delgada, on Valdés' tip, and enjoy dinner and overnight at the Faro Punta Delgada, a unique hotel built around a working lighthouse.

Friday, October 20: Peninsula Valdés

Peninsula Valdés is considered one of South America's greatest wildlife spots, and this is never more true than in October. In spring, Punta Delgada becomes home to about 14,000 Southern Elephant Seals. It is the only colony in the world reported to be growing. The water right off the peninsula is a prime breeding zone for the endangered Southern Right Whale, and the South American Sea Lion breeds here in large numbers between February and April, so that by October, pups litter the beaches and rocky outcroppings. Spend the morning on the beach right below the hotel, and take in the sights and sounds up close. After lunch, explore the surrounding area to see Darwin's Rheas and Guanacos. Dinner and overnight at the Faro Punta Delgada.

Saturday, October 21: Peninsula Valdés / Puerto Madryn

After breakfast, drive to the northern tip of Peninsula Valdés to the area of Caleta Valdés and Punta Norte, known for their colonies of sea lions and seals. Enjoy lunch and a visit to Estancia San Lorenzo, a grand old sheep farm-turned-nature preserve. See its thriving Magellanic Penguin rookery, home to about 500,000 individuals and quickly turning into one of the fastest-growing rookeries. This afternoon, drive back to Puerto Madryn. Dinner and overnight at the Peninsula Valdés Hotel.

Sunday, October 22: Trelew / El Calafate / El Chaltén

This morning, transfer to Trelew's airport for a flight south to El Calafate, the largest city near Los Glaciares National Park in the Southern Patagonia Ice Field. Transfer overland to the smaller and quainter town of El Chaltén, the Trekking Capital of Argentina, located at the edge of the Meandering River, with stunning views to the Fitzroy and Torre massifs in northern Los Glaciares. Dinner and overnight at Chaltén Suites.

Monday, October 23: El Chaltén

Rise early today and get a good breakfast in before a hike on the Cerro Fitzroy trail. The trail climbs gradually, with glimpses of the 11,000-foot Fitzroy through the endemic Lenga trees. Look for Andean Condors, Guanaco, fox and Darwin's Rheas from the trail and see the impressive Piedras Blancas Glacier. Stop at Laguna de los Tres and Laguna Capri for jaw-dropping views of the mountains and the chance for a quintessential Patagonian photograph, with the jagged peaks reflected in this turquoise lake. The trail ends just outside town, and you can walk back to the hotel from there. Dinner and overnight at Chaltén Suites.

Tuesday, October 24: El Chaltén / La Leona / El Calafate

After a short morning trek, head back across the wide Patagonian steppe toward El Calafate, with an off-the-beaten-path stop at the little-known La Leona Petrified Forest, a sunken lunar landscape littered with petrified trees and dinosaur bones that date back millions of years. Look for fossils from Argentinosaurus, one of the largest dinosaurs ever discovered. Afterwards, continue to El Calafate and enjoy dinner and overnight at the Posada los Alamos.

Wednesday, October 25: El Calafate

After breakfast, head to the 18-mile-long Perito Moreno Glacier, the jaw-dropping centerpiece of southern Los Glaciares. It's the most famous of the park's glaciers because of the relative accessibility of stunning viewpoints and its constant advance down the mountain (up to 6 feet per day), which causes building-sized icebergs to calve into Lago Argentino. Take an easy hike along the boardwalk and marvel at the sheer size of its blue face. Listen to the moans and cracks of the ice as it shifts and calves. Board a boat for a cruise on the lake for additional views, or don crampons for a trek on the ice. Return to El Calafate for dinner and overnight at the Posada los Alamos.

Thursday, October 26: El Calafate / Cerro Castillo / Torres del Paine National Park

After breakfast drive southwest to the Chilean border, then continue to Cerro Castillo where you'll enjoy lunch before continuing the short distance to Tierra Patagonia, your accommodations for the next three nights. Often called the Eighth Wonder of the World, the 935-square-mile Torres del Paine National Park is a marvel among Patagonian marvels. A UNESCO Biosphere Reserve at the southern tip of the Andes, it is home to remarkably diverse landscapes, from the otherworldly granite spires of the "horns and towers of Paine," to the massive icebergs at Lago Grey; from the virgin Lenga forests, to the eerily deserted pampas. Dinner and overnight at Tierra Patagonia, perched at the edge of Lago Sarmiento, with privileged views of Torres Del Paine National Park.

Friday & Saturday, October 27 & 28: Torres del Paine National Park

Wildlife viewing in Torres del Paine is outstanding, as its remoteness makes for relaxed wildlife. Whilst in the park, keep an eye out for Chilean Huemul Deer, Patagonian Hog-nosed Skunk, Chilla and Culpeo Foxes, Lesser Rheas, Black-chested Buzzard-Eagles, and Andean Condors. But, the main aim for these two days will be to track the magnificent Puma. Even with populations into the hundreds in a relatively small area, the Paine Puma prefers to keep its reputation as "the ghost of the Americas." Expert trackers will help to pick up their trail, and your chances to see these predators are as high as they will ever be. Dinners and overnights at Tierra Patagonia.

Saturday, October 29: Torres del Paine / Punta Arenas / Depart

After breakfast, transfer to the airport in Punta Arenas for your international flights out that afternoon.
Details
$12,970

Per Person Rate

$15,580

Solo Rate

12 days

Trip Length

12 guests
Buenos Aires

Start

Punta Arenas

End
In addition to all tour services from arrival in Buenos Aires through departure from Punta Arenas as noted in the itinerary, trip price includes all gratuities; services of an Apex expedition leader and local guides throughout; flights Buenos Aires to Trelew and Trelew to El Calafate, as noted in the itinerary; plus local beer and wine with lunch and dinner daily.
The Fine Print
Sold out. Please contact us to be added to the interest list for a future departure.
Have a question? Call us at 206.669.9272 /
800.861.6425

. Prefer online? Get in Touch
One Guanaco; Two Guanacoes?
Lama guanicoe, or Guanacos (correct spelling for the plural of "Guanaco") are humpless camels of the arid and semi-arid habitats of southern South America. Found at elevations up to 14,500 feet, they are related to camels, as are Vicunas, llamas, and alpacas. Found in groups of up to ten females, the young, and a dominant male adult, Guanacos are the largest native herbivore in Patagonia. Their soft, padded feet allow them to tread on soil and vegetation without damaging the environment and they obtain moisture from the vegetation they eat, conserving water like other camels.